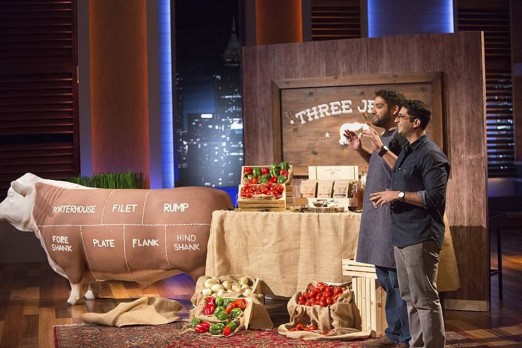 Daniel Fogelson and Jordan Barrocas pitch Three Jerks Beef Jerky, literally the Filet Mignon of beef jerky, in Shark Tank episode 705. There are only two of them – the third "jerk" is the jerky itself! Lots of food products pitched on Shark Tank are started in the entrepreneurs' kitchens, but Three Jerks Jerky is the first time a home dehydrator has been used to start a business.
The business started simply enough. Dan and Jordan weren't happy with the chewy, shoe leather-like consistency of their favorite snack, so they bought some Filet Mignon and started making beef jerky in their living room. After a while, they bought a couple more dehydrators and started pumping out the original version of Three Jerks Jerky.
When they realized they had a winning product, they went to Kickstarter to raise $10K for their website, eCommerce platform, marketing, and USDA compliance. They blew that number out of the water and raised $45,663.00! Now, the two jerks are making Three Jerks Jerky in a beef jerky co-packing facility and selling it in over 40 stores and Amazon.
Three Jerks comes in several flavors: original, Memphis BBQ, Chipotle Adobo, Hamburger, and Maple Bourbon Churro. They also made a special jerky for big backers: The Midas Touch –  a 23 Karat Gold encrusted Filet Mignon Beef Jerky. If you don't like their flavors, Three Jerks will "custom jerk" 5 pounds of meat for you. If you're a do-it-yourself type, there's a recipe on their website that tells you how to make your own jerky in your oven.
Three Jerks Jerky is expensive by beef jerky standards, each 2 ounce packet will set you back $11.99 ($30 for three). I guess that's what you get when you use Filet Mignon – it's one of the most expensive cuts of meat. We'll see if the two jerks can snag a Shark to round out the threesome.
My Take on Three Jerks Jerky
I like beef jerky. Echo Valley Meats sent me some of their jerky and it was delicious. I also frequently buy beef jerky at the store for a snack; it's great on road-trips, too. I like trying different flavors and I'm usually willing to pay a few bucks extra for some "fancy" beef jerky. At twelve bucks for two ounces, I wouldn't be sharing any Three Jerks Jerky!
Like Dan and Jordan, I sometimes have a problem with wicked chewy beef jerky. I've noticed some "premium" jerky in some stores, but I don't recall ever seeing Filet Mignon Jerky. I'd LOVE to try some! I am IN!
Are Sharks Jerky?
There's only been one other beef jerky company in the Tank: Uncle Zip's Beef Jerky from season two. Entrepreneur  Ken Howell left the Tank with no deal, but continued to sell his beef jerky until he passed away in 2014. Uncle Zip encountered objections from the Sharks due to his limited market reach and his plans to create his own jerky processing plants in different regions of the country.
The Three Jerks guys already have a co-packing arrangement and aren't likely to change that. USDA regulations make re-inventing the wheel by building your own facility cost ineffective. Three Jerks also has much slicker marketing than Uncle Zips and they have the proof of concept of the successful Kickstarter.
Barbara didn't bid on Uncle Zips, and I believe she won't get involved with Three Jerks. Ditto for Lori. Mark, Robert, or Kevin could all make a bid. I think Robert will bid, but Kevin will ultimately be the third jerk. This business, with its customized jerky option and premium branding fits well into "Mr. Wonderful's platform of love." High quality Jerky would be an excellent groom's gift and wedding favor (for the guys anyway). While Mark and Robert may bid, Mr. Wonderful will be making Shark jerky!