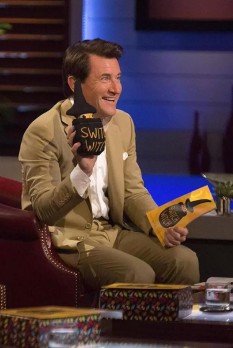 SwitchWitch creator Rob Bouley, like a lot of parents, was mortified by the amount of Halloween candy his kids brought home, so he looked for a way to curb the sugar-infused gluttony without ruining the fun and becoming "that dad." Bouley, who owns an ice cream shop, isn't anti- treat, he just things are way out of moderation on Halloween.
Mr. Bouley along with his sister-in-law, Lara Spear Riley, will pitch their solution to the issue in episode 705. The pair basically created their own Halloween legend when they came up with SwitchWitch, a plush toy and accompanying storybook.
The legend says the SwitchWitch comes every "October Eve" (that's code for the first of October) and spends the month in a child's home. Over the course of the month, the witch can play hide and seek and keep an eye on the kids to "see" if they're behaving. On Halloween night, kids leave a pile of candy for the SwitchWitch who takes it and switches it for a gift.
SwitchWitch even has a solution for all that left-over candy – they participate in the Halloween Candy Buyback Program. The program asks parents to donate a buck for every pound of candy for troops overseas and then ships the candy to the troops for snacks. They partner with Operation Gratitude who ships the candy – along with toothbrushes – to the troops. To date, they've shipped 130 TONS of candy!
My Take on the SwitchWitch
My five kids have probably collected more than 130 tons of candy over the years! Halloween has always meant a ridiculous amount of candy in our home – we'd often still have some lying around the following Halloween! There's only one trick-or-treater left in the house these days and Halloween happens to be her birthday; she lets everyone know when she rings the doorbell and she often gets double treats. Last year she collected 13 ponds of candy – nearly 25% of her body weight at the time!
When I first saw the SwitchWitch, I thought of it as the Elf on a Shelf (or Mensch on a Bench) of Halloween. It's a cute idea and the message of reducing Halloween gluttony is a healthy one at heart. I also like the involvement with organizations that support our troops.
While I probably won't be a customer – our daughter is nearing the end of her trick-or-treating days – I think it's a good idea. Parents will embrace this. Most parents know having 13 pounds of candy isn't healthy, but no parent wants to be a spoil sport. SwitchWitch makes it fun and easy for parents to cull the glucose infested bag of treats on all Hallowed Eve. I am IN!
Do Sharks Like Candy?
Last season, Barbara Corcoran invested in Mensch on a Bench. In season five, Daymond invested in the Hanukkah Tree Topper. Neither Barbara or Daymond appear in episode 705, but the trend of holiday-themed businesses getting an investment is definitely there.
I don't think Chris Sacca invests in SwitchWitch – it's not in his wheelhouse. Ditto for mark Cuban and Mr. Wonderful. Lori could make a bid, since it's a relatively low-priced item with a level of mass appeal. I'm betting Robert bids on this and does a deal in the Tank. He's been saying he wants to "diversify" his Shark Tank portfolio, and, for that purpose, this product is right up his alley. I think he'll be bidding on two other businesses in episode 705, but this is the one he'll get.