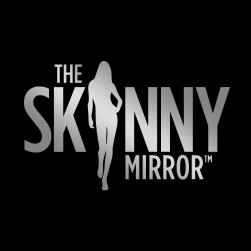 Skinny Mirror inventor Belinda Jasmine didn't like what she saw in the mirror one day, so she decided to do something about it. There's an old saying: "the camera adds tens pounds;" the same thing can be said for many mirrors. Belinda says more than 50% of mirrors have imperfections that make you look tubby. She invented the Skinny Mirror, a patent pending mirror with a slight curve in it, to make mirrors that make people look ten pounds skinnier. She'll be giving the Sharks the skinny on her business in episode 705.
The idea for the Skinny Mirror started when Belinda was looking in an old mirror, prompting her to ask her boyfriend the question most men fear answering (honestly): "do I look fat?" SHE thought she looked fat, but she really wasn't – it was the mirror. She experimented and researched mirrors and came upon a design that gave a more flattering reflection. She claims her Skinny Mirror boosts self-esteem by giving people a better self-image every time they look in the mirror.
Skinny Mirrors come in a lot of different sizes, from standard, full-length mirrors to huge fitting room sized mirrors. The cheapest model – the Bare Naked Skinny Mirror – has an unfinished wood frame and will set you back $99. The most expensive models are north of $600.
My Take on the Skinny Mirror
Oh vanity, thy name is woman! This is a product only a woman could invent. I just can't see most guys – myself included – caring about how they look in the mirror. This product reminded me of Billy Crystal's Fernando character from Saturday Night Live in the mid 1980's. He'd say "to look good is to feel good, and darling, you look MARVELOUS!" The Skinny Mirror makes you feel good by looking good.
The thing is, if you really need to drop ten pounds, maybe you ought to go for a walk instead of standing in front of the mirror fooling yourself! I get where she's coming from and I admire her promoting a positive self-image. I also like how green her business is: she uses FSC Certified, reclaimed or salvaged wood and she makes her mirrors in the USA. The thing is, when you come right down to it, the Skinny Mirror shows a false image.
I think a lot of women will like it. Guys would rather have a fun-house mirror! I am out.
Will the Sharks see cash in the Looking Glass?
The ABC Press release for this episode says one "pitch prompts a brutal brush-off from an irate Shark." One of the Sharks says: "THIS PITCH SUCKS, I'M OUT!" I'm betting the Skinny Mirror is the unfortunate recipient of the Sharks' ire. I personally don't like seeing the Sharks bully entrepreneurs for the sake of entertainment. Unfortunately, I think Belinda is not leaving with a deal and she gets the "train wreck edit."