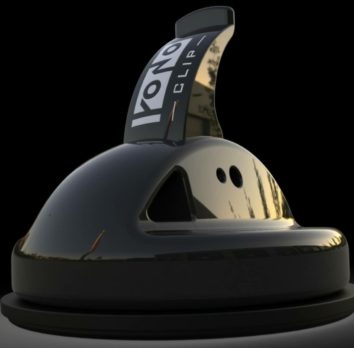 Bob Mackey and Michael Green created the Yono Clip to keep germs off their bags and jackets and they pitch their invention in Shark Tank episode 1208. Yono is short for "you only need one," a testimony to the power of the product. It's a suction cup that sticks to almost anything with a little hook on it to hang things on.
The idea for the product came to Mackey one night at the gym. He noticed people leaving their gym bags and jackets on the floor. Bob knew that was a great way to get all those germs onto your bag or jacket, so he quickly sketched the idea for the product and reached out to friends for help. Michael Green answered the call. Green is also known as "Michael Green the Science Machine" for his long time science shows at Six Flags Georgia, The Steve Harvey Foundation, The Atlanta Braves and more.
The product itself is fairly simple. It uses a DURAFLEX® suction cup that gives it extra sticking power. It has a retractable hook and a carabiner clip. When suctioned to a smooth surface it'll hold about 15 pounds. Each clip is biodegradable, sustainable, renewable, carbon neutral and the packaging is made from recycled paper. They cost $19.99 and come in blue, green, pink, black, white and red. They're also made in the USA.
The guys got things going with a successful Kickstarter campaign that raised $9,857 back in July, 2020 – the middle of the Covid 19 pandemic. Now, they want a Shark to help them bring their product to the world.
Company Information
Posts about Yono Clip on Shark Tank Blog
Yono Clip Shark Tank Recap
Bob and Michael enter seeking $150,000 for 15% of their business. They tell their stories and hand out samples. They tell the Sharks they're still making the clips in their garage and they want a Shark's help with manufacturing. The guys are using a 3D printer now and want to move to a mold based manufactured product. This will significantly drive down the cost and boost margins.
The Sharks are hesitant because the guys are basically pre-revenue. As they go out one by one, Daymond offers the $150,000 for 30% which they accept.
Yono Clip Shark Tank Update
The Shark Tank Blog constantly provides updates and follow-ups about entrepreneurs who have appeared on the Shark Tank TV show. While there is no official word on any of Daymond's sites, Bob and Michael wrote this on their Facebook Page on February 23, 2021:
"Happy birthday, Daymond John! Thank you for everything you've done for us. #ItsTimeToYono"
The business had supply chain issues during the Covid-19 pandemic which made for a lot of unhappy customers. It did eventually work itself out. There are numerous knock off products on Amazon though. The company's social media hasn't been updated since February, 2021. As of January, 2023, reliable revenue figures are unavailable.
I will update this page as more information becomes available.