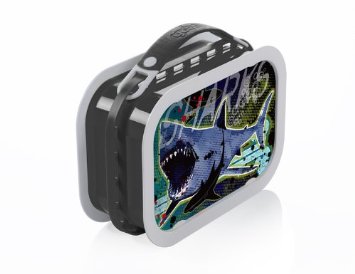 Husband and wife entrepreneurs Paul and Cyndi Pedrazzi pitch Yubo, their line of personalized kids' lunch boxes to the Shark panel in episode 511. The couple set out to reinvent the lunch box back in 2007 when they became frustrated with all the plastic baggies they were using for their own kids' lunches. They created Yubo as a result.
Yubo is a modular lunch box system with re-usable, washable containers that nest inside each lunch box. Kids can customize their lunch box with their name and with a series of interchangeable face plates with cool designs. Personalized lunch boxes can have just about anything on them from custom artwork to photos and more. The Pedrazzis think the design options prevent kids from getting bored with their lunch box.
Yubo is available on Amazon and at independent shops worldwide. The Pedrazzis are likely looking to the Sharks to help them with distribution in larger retail outlets.
Yubo Shark Tank Recap
Paul and Cyndi come onto the Shark Tank looking for $150,000 in return for 15% of their company, Yubo. The pair of entrepreneurs present their daughter's fabric lunchboxes, and estimate they were going through an average of 2,000 plastic bags per year.
Yubo is dishwasher safe, and comes with custom containers and a fitted ice pack. They present each of the Sharks with their own personalized Yubo boxes. The boxes retail for $21 for the basic box with no accessories, up to $30-40 for a personalized, fully accessorized Yubo.
The pair has been able to get into 100 retail stores. They've been on the market for 4 years, and are on track to sell $200-250,000. They're ready to expand their retail offerings, and Cyndi hopes to reach out to Disney, to create a deal where visitors could purchase Yubos customized with photographs from their visit in the park, right in the gift shop.
The pair have one snag in their offer. In order to get manufacturing, they had to trade 20% of the company to their initial manufacturer, in addition to a 5% sliding scale royalty on sales, that drops to 1% with 750,000 units sold.
Mark Cuban believes "the idea of a royalty is so wrong," he's out.
Barbara Corcoran believes the Yubo is too large, and won't fit neatly in a backpack. She's out.
Kevin O'Leary decides to make an offer. He's willing to give them the $150,000, in return for 10% equity, but he wants the same royalty deal the manufacturer has. Paul doesn't believe an additional royalty is sustainable.
Robert Herjavec jumps in. He's offering the $150,000, but he wants 30% of the company, saying he thinks "this is a real home run."
Lori Greiner tosses her oar in, adding a third offer: $150,000 in return for 20%. She's already in Disney and has a relationship with Walmart.
O'Leary drops the royalty, and his equity stake down to 20%, adding the ability for the couples to buy him out, down to 12.5% of they pay back the initial investment in 18 months.
Greiner's not about to be outdone. She lowers her ask to 15% of the company, but she'd want a repayment within 15 months.
Herjavec makes an offer, of $150,000 for 15%, without a repayment restriction, triggering O'Leary to alter his offer slightly, dropping his 12.5% down to 10%.
The couple want to step away to discuss the offers, but the Sharks warn them that things can change fast in the Shark Tank. Robert Herjavec offers to go in with O'Leary, with the $150,000 for 15%, with the option to drop the equity down to 10% of the investment is repaid in 18 months.
The pair accept the deal.
Yubo Shark Tank Update
Lori and Robert were true to their words, taking Yubo to the next level in lunch box success. Today, the Yubo is sold in Australia, Canada, Hong Kong, Indonesia, Netherlands, Norway, Turkey, UAE, and England, as well as in the USA. Amazon, Disney stores, and several other large retailers carry the boxes. Currently, Yubo is rolling out the Yubo Tote, a washable bag that detatches to lay flat, making for easy cleanup. The Tote offers a larger capacity, better suited to older kids' appetites, as well as being a more mature design for kids who have outgrown carrying a "lunchbox" to school.
In January, 2019, the company shut down. Cyndi posted this on the company Facebook page:
After 10 years in business, we have decided to move onto our next adventure.

With each new year we reflect on the past and look forward to the future. My husband and I started yubo with a passion for making kids lunches fun and eco-friendly by reimagining the lunchbox. I am happy to say we have fulfilled that dream and yubo brought us more joy than we could have imagined. We met so many wonderful people along with the way and could not have a successful business without every one of our customers who supported us on this journey.

It is very difficult to say goodbye to something you've created and watched grow, but with endings come new beginnings. We're entrepreneurs at heart and are already conspiring on what's next. If you want to stock up on yubo products before we go, we've got you covered. Stock inventory is 50% off while supplies last.

We hope you and yours have a wonderful new year and continue to laugh, love, and play with your food long into the future.

With profound gratitude and appreciation,

Cyndi, co-founder, yubo
Posts About Yubo on Shark Tank Blog
Yubo Information