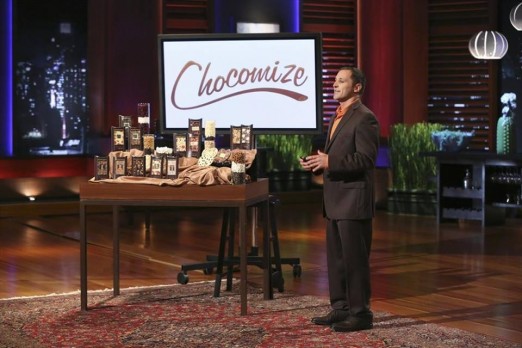 I spoke recently with Joe Dauenhauer to get a Chocomize update. Joe, a Saugus, MA native and Boston College alum, charmed Lori Grenier with his Boston accent (who WOULDN'T be chahmed by such a wicked awesome accent), but she and the other Sharks weren't sweet enough on the business to invest.
Despite declining a job offer to work for Kevin O'Leary in "Mr. Wonderful's Chocolate Factory"  and leaving the Shark Tank without an investment, Joe and partners are still upbeat about the prospects for Chocomize. A Chocomize update segment may not be rolling on ABC later in season 5, but sales and inquiries are WAY up since the show.
Chocomize Backstory
Joe met founder Fabian Kaempfer and began his involvement with Chocomize in an unusual way. "I was managing a hedge fund in New York City and I had a room to rent. Fabian answered an ad on Craigslist and moved in – he was just starting out. I joined him to help grow the business. We have complementary skills: he's an operations guy and I'm a numbers guy, so we made a good fit. Fabian couldn't be on the show because he's a German citizen – you need to be a US citizen to appear on Shark Tank."
"Back in 2011 we had half a million in sales. Sales were down in 2012 – those are the numbers that were shown on TV – because we were working on the business. We got a $200,000 investment based on a $2 million valuation and we poured that right into the business. We hired a Chocolatiere, bought bigger machines, tweaked the website, and hired a marketing person. Sales in 2013 are around $800K, but Shark Tank could put us over a million."
"I am a huge fan of the show, we actually applied for season 4, but we were too late. The producer we worked with called us back and asked us to re-apply for season five. When we applied for season four, the producers still had the option [for 2-5% of sales] in the contract. When we re-applied for season five, it was gone. That was even better. We were willing to risk the option monies for the exposure."
"When Shark Tank called and asked us to come out to LA to tape, I reached out to Jonathon Miller from Element Bars. I thought he did a really good job on the show with his valuation. He also gave us a good idea about how long the process takes and what to expect – he was really helpful. After I taped, we still didn't know we'd air until a few weeks before. It was great timing for us, because chocolate is such a big seller during the holidays."
Chocomize in the Shark Tank
"Like I said, I'm a big fan of the show. Walking down the hall was surreal. I felt like I was watching myself on TV. It was really cool! I wasn't worried about the numbers, I was more concerned with how I would look on TV. It's SO HOT in there, I didn't want to be 'the sweaty guy.' A lot of people don't know that all the Sharks talk at once. I had 25 points I went over, none of that was shown, so it was a bit frustrating."
"I think the edit was a bit biased, but I knew that was a possibility. They really didn't show me talking about the company history. They made it look like the Sharks were pushing me around, but it was really a back and forth discussion. The whole job offer sequence came after I explained the company history, but before the negotiations – so that was a bit out of sequence too. The Sharks want to buy low and sell high. I get that, but you need to keep fighting. Shark Tank is similar to running a hedge fund: it's all about risk/return."
Chocomize Update: Life After Shark Tank
"Overall, I am very happy I was on the show. Before Shark Tank, nobody knew we were out there; now we have the exposure. A bunch of us watched the show in front of the computer. We paid a bunch of money to up our server capacity, but we had 12,000 people on the site during the segment. Once the segment ended, the site really slowed down. We probably needed more capacity, but we did the best we could with the budget we had."
"There were hundreds of inquiries after the show. Our corporate business really exploded this year: we have some big accounts like Google and Buick. The wedding market is really taking off too. Shark Tank really gave us a big boost."
Parting Words
I asked Joe to give me his business philosophy. "Preparation and discipline are key when you go in to do anything – knowledge and confidence lets you be more in control. If you can stay strong, be prepared, and have confidence, when you get knocked down and lose, you can get back up and come back the next day and continue to grind ahead no matter what!"
I had one other question for Joe. He answers it on The Hot Dog Truck.