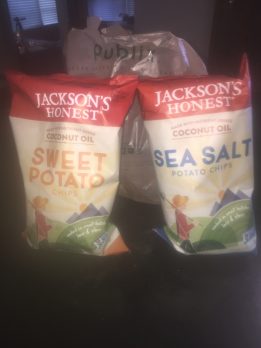 Megan and Scott Reamer make their Jacksons Honest chips and tortillas with coconut oil, organic potatoes and corn, and a lot of love. They named the company after their late son, Jackson who passed away from complications of Aicardi–Goutières syndrome (AGS),a rare immune disorder that causes a chronic inflammatory condition in parts of the brain. A diet high in "good" fats combats the symptoms of the disease. The Reamers found a "good fat" cookbook when little Jackson was near death at age three. The little guy weighed just 17 pounds and could hardly move. Once Megan began feeding him the high fat diet, he gained weight and his health improved.
There won't be a dry eye in the house when they jump in the Tank in episode 904, the second part of the season 9 premier. In what's sure to be a tear-jerker of a pitch, the Reamers will tell their story and how they came to experiment with frying potato chips and tortillas in coconut oil. Coconut oil is an important source of dietary fat and has a high concentration of lauric acid – an important nutrient. Snack chip makers abandoned coconut oil and other "good" fats years ago in favor of less expensive (and not as good for you) vegetable oils.
Jacksons Honest chips are about as wholesome as you can get. They use organic, non-GMO potatoes and corn, organic coconut oil, and real sea salt in their snacks. That's it. When they started making them at home, their friends and family urged them to package and sell the chips. nearly 15 years after their first experiments, they have a product and they're in the Shark Tank looking for help.
My Take on Jacksons Honest
When I saw on their website that Publix stocked the product, I decided to give them a try. My local Publix only had Sea Salt Chips and Sweet Potato chips (pictured above). Other varieties include:  barbecue, purple heirloom, red heirloom, and sea salt & vinegar. The tortilla flavors are blue corn, yellow corn, sprouted red corn, maple cinnamon, lime and sea salt, and salsa fresca. They were a bit pricey at $3.99 for a 5 ounce bag, but Publix had them on sale at 2 for $5.
When I got home, I immediately opened them and I must say, other than freshly cooked chips, they are the best damn chips I ever tasted! The flavor of the sweet and regular potatoes jump out at you. They're rich and hearty and it was all I could do to put them down. Both my daughter and my wife loved them and we killed both bags while watching a movie. I would definitely buy these again. Jacksons Honest has a new customer – I just wish they could get more flavors on the shelves at my local Publix!
Will the Sharks Munch on These Chips?
The Reamers are fortunate that Rohan Oza is on the panel. He's nicknamed "The Brandfather" for his many successes in the snack food and drink industries. While all the Sharks are sure to gobble up the samples, it's Oza that can do them the most good from a strategic standpoint.
I am predicting Oza does a deal with the Reamers. Even though they've made Jacksons Honest for a number of years, to have the broad distribution in sores like Publix and other big chains takes a lot of work. Oza can get them on the shelves with a few calls and since they taped this segment last June, he could have been working since then to get them on the shelves.
Another possibility is that Barbara gets involved. She has other snack foods (Pipcorn) in her Shark Tank portfolio. Perhaps she and Mr. Oza team up on a deal – it has the makings of a Shark Tank snack foods dream team! If it's not Oza or Barbara or a combination of the two, it's no deal. Regardless, Jacksons Honest is a winner. Did I say they were the best damn chips I ever tasted?