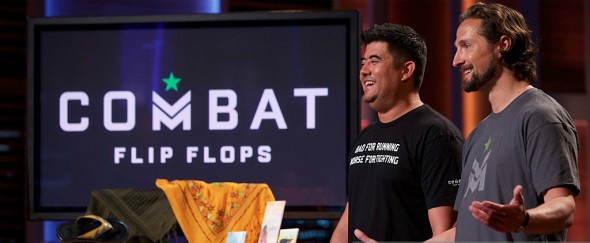 Former Army Rangers Donald Lee and Matthew Griffin seek "peace through opportunity" when they pitch Combat Flipflops in episode 719, the Shark Tank "Military Special." Their mission statement is provocative and moving:
To create peaceful, forward-thinking opportunities for self-determined entrepreneurs affected by conflict. Our willingness to take bold risks, community connection, and distinct designs communicate, "Business, Not Bullets"–flipping the view on how wars are won. Through persistence, respect, and creativity, we empower the mindful consumer to manufacture peace through trade.
As Rangers, they saw their share of action in  Afghanistan. They were moved by the hard-working people they encountered daily. They realized war wasn't the way people would be liberated – they needed opportunity. The pair center their company on the mission statement and give back to numerous worthwhile charities with a portion of their sales.
More important than the charitable contributions is the opportunities they create for people who make their products. Their slogan is "We make cool stuff in dangerous places." In Colombia, they employ former drug growers to make their Combat Flipflops. Sarongs made in Afghanistan, jewelry in Laos, and Claymore bags made in the USA round out their product line. Each item sold results in the company investing into the communities they make their stuff in, providing much-needed trade in places where there is very little.
Combat Flipflops have combat boot rubber outsoles with bullet casings. They are a stylish but rugged version of the ubiquitous beach footwear. A purchase sends an Afghan girl to school for a week. The reviews are all five stars for this product. People feel good about supporting a veteran owned company that has such a driven mission statement.
Griffin is passionate about his business because he felt a sense of despair while in Afghanistan. He was touched by the people, particularly the children, but pained by the devastation around him. After leaving the military, he traveled the world, helping people in impoverished countries. On a journey back to Afghanistan, he encountered a boot factory and got "stoked." He had a vision for deploying former military personnel into war ravaged regions, creating products to ship all over the world.
Pursuing his mission helps tens of thousands of people and it's part of a broader vision for world peace. Griffin believes if we can resolve our differences and work together, we will have a more peaceful and productive world through trade and opportunity. Unlike some pie-in-the-sky idealist, he's doing something about it.
My Take on Combat Flipflops
I was so moved by Griffin's mission and story, I actually bought a pair of Combat Flipflops while writing this post! I received this confirmation email:
Thank you for shopping with Combat Flip Flops. You may not know it, but there's a lot more in the box you're going to receive. It may look like a pair of flip flops, shemagh, sticker, or some other inanimate object. It's more than that.

"Until a concept becomes experience, it is merely speculation" ~ Unknown

What you're going to receive in the mail is a concept, for your experience, to erase the speculation of the naysayers–It is possible to manufacture peace through trade.

Welcome to the Unarmed Forces. It's now your mission to drive forward, show others what's possible, and encourage them to join you. We're honored to have you with us in this mission.
The flipflops are billed as "bad for running, worse for fighting," which is a good thing since I don't plan on doing either of those things anytime soon! They'll likely be pretty comfy around the house or down at the fishing pier. An overwhelming feeling of goodness came over me as I hit the "pay now" button. I am STOKED now that I am part of the "Unarmed Forces!"
Will Sharks See the Vision?
Griffin is articulate, passionate, and driven. His story can't help but touch the Sharks, but they'll want numbers to back up the vision. I can see this pitch getting emotional; if you watch the Tedx Talk Griffin did, you'll be moved too.
As always, sales and valuation will be the ultimate determining factor, but if Griffin and Lee have their numbers in order, they'll have at least one Shark in their Unarmed Forces!