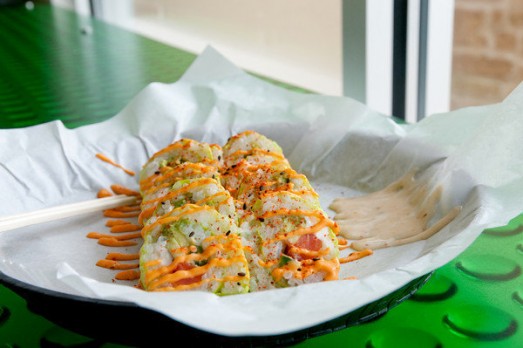 Custom Sushi sounds like a pretty good concept to me. It sounds good to Yeun and Peter Yung, owners of a fast growing sushi franchise concept called How Do You Roll with stores in 5 states. In addition to "traditional" sushi offerings, How Do You Roll offers custom sushi: customers can build their sushi rolls with any ingredients they want. It's a novel idea that, surprisingly, isn't being done by most sushi restaurants. The Yeun brothers will undoubtedly serve the Sharks the most figuratively appropriate food samples in Shark Tank history; I can't wait to see if they have custom sushi rolls for each Shark (A Mr. Wonderful Eel roll perhaps)!
I like sushi, so do a lot of other people. Absent a fresh caught bluefin tuna for making some home-made Maki, having a place to go for quick, fresh, custom sushi would be most welcome in my neck of the woods. Vegetarians can get into the act at How Do You Roll too. If you are a sushi fan, custom sushi sounds like a great idea.
Custom Sushi Makes for a Quick Lunch
Yeun Yung came up with the custom sushi concept while "nine to fiving" it. He was frustrated with the lack of quality sushi options near his place of work, so he teamed up with his chef brother, Peter, to start How Do you Roll. They figured bringing sushi into the fast food world, while not compromising freshness or quality would be a success. The Yung brothers were right. They count over 15 successful franchisees and the custom sushi concept is a big hit.
Do Sharks like Sushi?
REAL sharks would gobble up ANYTHING with raw seafood in it, including sushi. For Shark Tank Sharks, it's a matter of personal preference! Whether the Sharks like sushi or not, they'll need a compelling reason to invest in a custom sushi franchise. Franchise concepts haven't fared well in the Shark Tank in the past. Part of the reason may be the complexity of the franchising organization or the viability of individual franchisees.
How Do You Roll is unique; other Shark Tank pitches from franchise operators have been in fairly well established niches (like ice cream). A unique franchise offering, coupled with good numbers and a decent valuation may have the Sharks feeding on sushi! I like sushi and the How Do You Roll business model. I don't think the Sharks will bite on custom sushi, but purely from an organizational standpoint – not as a reflection on the business or franchise model. History shows Sharks don't do franchising, so I don't expect an offer. I, however, am firmly "IN," with a half dozen tuna rolls to go!