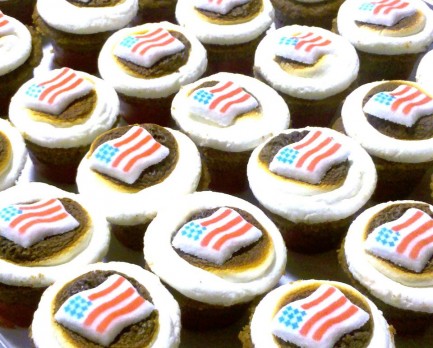 Smuffins is fun to say and they're yummy to eat. What's are Smuffins? They're a "muffinized" version of the iconic campfire snack, the S'more. Entrepreneur Carmen Lindner will feed the Sharks some Smuffins in episode 418. She's pitching Gotta Have S'More, the latest food biz to pitch the Sharks and the first purveyor of confections to appear on the show in 2013.
I can't think why anyone would not love to have a S'More, other than the mess that's usually involved. S'Mores aren't snacks most folks have unless they're in their "play clothes." Lindner's "invention" changes that; her Smuffins pack all that S'more gooey goodness into a compact, and neat, muffin-shaped morsel. This is nasty (the good kind) stuff!
S'more Smuffins, Please!
Think about it, if someone offered you a S'more right now, you'd eat it (you know you would). I would too! The Gotta Have S'more Smuffins bring an inaccessible, but much-loved, snack to people who don't want to start a campfire and deal with molten marshmallows and chocolate. I don't recall ever seeing a S'more presented this way, but I'll bet it is ridiculously good. As the Gotta Have S'More website says: "Once you try them, you will wonder how you survived without them for so long." Smuffins seem like they'd be the type of treat to induce audible groans of wonder and delight when you bite into them.
VALENTINES DAY ALERT GUYS: IF YOUR LADY LIKES SWEETIES, SURPRISE HER WITH SOME SMUFFINS! A dozen Smuffins will set you back thirty bucks, about the same as a dozen roses. If you're a real high roller, spring for both!
Smuffins can be customized for special holidays and events; Carmen even does them up in special gift packages for weddings and showers and in bulk for catering. Gotta Have S'more is one of those food businesses that's unique enough to catch on, much like Daisy Cakes or Painted Pretzels. The advantage Lindner has is she has a scrumptuous and familiar treat presented in a new package.
What will the Sharks Say (when they're done with their Smuffins)?
This is going to be one of those pitches where the Sharks' plates will be empty after sample time – unless Daymond grabs them all! The internet is packed with recipes for this kind of treat, but there aren't many selling online. There aren't any branded food stuffs like this available either. If Carmen can hit on that point and not get bogged down bickering with the Sharks over minutiae, she has a good shot at a deal. Other factors, like logistics and distribution, could be stumbling points, but the bottom line is the Smuffins' taste. If it tastes as good as it sounds, Gotta Have Smores could leave the Shark Tank with a sweet deal. I am "IN" – for at least a dozen!