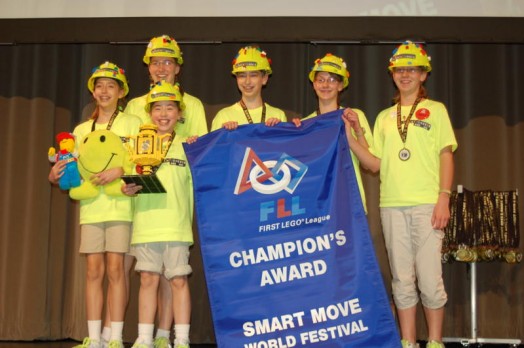 These six Londonderry, New Hampshire teens (actually a couple of them aren't even teens yet) are set to take the nation by storm when they appear on Shark Tank episode 418. They aren't your stereotypical kids who loll around playing video games, they're part of the Inventioneers, a group formed to compete in the First Lego League competitions where teams create robots out of Legos to complete a set of challenges.
They're smart kids who wanted to solve a big problem facing their peers: distracted driving. As teen driving deaths increased over the past few years, many fatal crashes were attributed to texting while driving and other distractions. The Inventioneers decided to do something about it!
Meet the Inventioneers: 6 New Hampshire Teens with a Mission!
The six New Hampshire teens (and tweens) are TJ Evarts, Jaiden Evarts, Bryeton Evarts, Paige Balcom, Emily Balcom, and Kate Balcom.  They came up with an education campaign to teach other kids the perils of texting and driving; it's called DUIT (Driving Under the Influence of Texting). The Inventioneers didn't stop there, they created technology to  alert teens when they remove their hands from the steering wheel. The invention is called the Smart Wheel (Safe Motorist Alert for Restricting Texting).  It's a sleeve that fits over a steering wheel with sensors that sound a warning when hands shift from the safe driving position. The Smart Wheel also tracks the frequency of such actions and can alert parents and law enforcement. There's talk of insurance discounts for motorists who employ the technology too.
The Inventioneers have a provisional design patent pending since 2009 and they filed for a utility patent in 2010.  90% of people who tested the Smart Wheel said it would inhibit their texting and 70% said it would be an effective driver training tool. The goal of the six New Hampshire teens is to incorporate the Smart Wheel into driver's education programs. They have the support of Roy LaHood, the U.S. Secretary of Transportation, and other top government officials. The Smart Wheel currently is an auto "aftermarket" item, but the kids envision the technology being embedded in new car steering wheels some day.
Do the Sharks Bite on the Smart Wheel?
The Smart Wheel will be a refreshing pitch in the Shark Tank; the combination of the smart New Hampshire teens and their entrepreneurial spirit coupled with a useful, potentially life-saving product has to be the feel good story of season 4 so far. Mr. Wonderful offers someone $1 million in episode 418, the Inventioneers are odds on favorites tobe the recipients of that offer.
I can't see how the Sharks, even in their nastiest moments, would trash this idea or the business. It certainly wouldn't help the show's image to trash a bunch of prodigal young people. I think the Sharks, and the American public, are going to love these six New Hampshire teens. They'll be entrepreneurial rock stars before they even get out of high school! I am 100% "IN!"