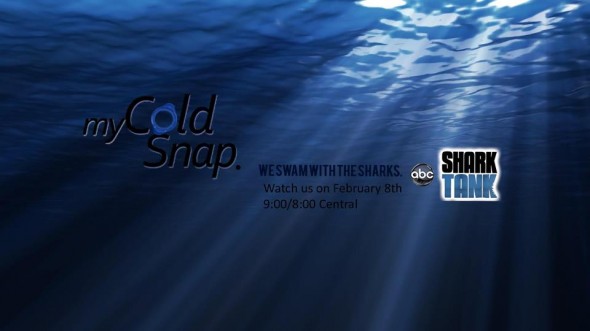 A thirteen-year-old hand held cooler business makes its way into the Shark Tank in episode 415. My Cold Snap is basically an over-sized drink tumbler with a snapping mechanism that keeps a canned or bottled beverage cold for up to an hour. It does this by keeping ice and water in the hand held cooler, which acts as a refrigerant for the can or bottle. Think koozie with ice! My ColdSnap was invented in 2000 by golfing buddies (and cold beer lovers) Carlos Ortiz and Scott Duff; they recieved a patent for their hand held cooler in 2002. It's quite an ingenious idea, but it doesn't appear they've done much with it – at least until now.
Hand Held Cooler much more than just another Koozie
Almost everyone is familiar with the ubiquitous Koozie – the foam can and bottle holder that's a standard advertising specialty and store counter top impulse item. I'm willing to bet that everyone reading this has a few in their house somewhere. The concept is simple: insulate a can or bottle so it stays cold longer. My Cold Snap takes that concept a step further by introducing ice to actually "refrigerate" a beverage container instead of just insulating it. It really is a hand held cooler for your individual drink.
Anyone who has had a can of soda or beer on a very hot day has tasted their fair share of warm beverages, whether they're using an insulating Koozie or not. With My Cold Snap, the drink stays cold for up to an hour, and I mean ice cold. It seems like a "must have" item for anyone who enjoys being outdoors in the warm weather. This hand held cooler is a product I'd use again and again. I'd buy one while getting beer and I'd scoop up a free one (or two), emblazoned with some company's logo, at a trade show booth. It's smart, it's functional, and it's cheap.
Do the Sharks Snap up My Cold Snap?
This seems like a no-brainer on the surface. My Cold Snap is patented, they have production in place, the product serves a need, and it's inexpensive. The little hand held cooler appears to have all the elements for a successful Shark Tank pitch. Unless they're saddled with debt or have ridiculously low sales, you'd think a Shark would bite at this opportunity.
ABC is throwing a bit of a curve in the promotion surrounding the hand held cooler entrepreneurs. The press release for this episode says "two men from Austin, TX are willing to give the Sharks a 100% stake in their hand-held cooler business." The video promo depicts Barbara Corcoran telling Carlos and Scott that they "aren't serious" about their business.
Time and time again, we see "wantrepreneurs" in the Shark Tank. They have a great product, but no business sense. The Sharks invest in the people as much as they do in the business. Sharks smell blood when an entrepreneur doesn't take their business seriously. This may be the case with My Cold Snap. The hand held cooler has been around at least 11 years, but nobody's ever seen it. These guys  may not have what it takes to run a business. I wonder if one of the Sharks will buy them out with a 100% offer. If all the components for manufacturing are in place, it would be easy for one of the Sharks to promote the brand and sell a ton of these things. Heck, I'll take four!
I am certainly "IN" when it comes to My Cold Snap, we'll have to wait and see if the Sharks are.