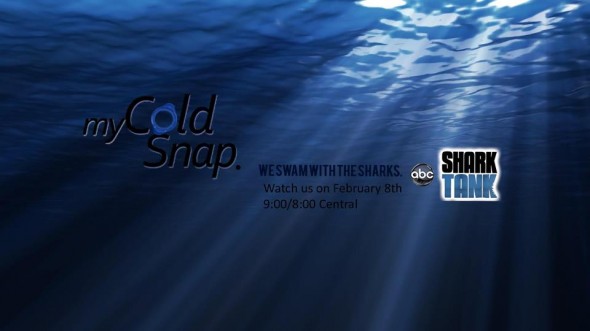 My Cold Snap entrepreneurs Carlos Ortiz and Scott Duff bring their patented single beverage koozie into the Shark Tank in episode 415. The business partners and golfing buddies invented My Cold Snap back in the year 2000 and received a patent in 2002. They both like their beer, but living in Texas had them drinking too much warm beer for their liking. My Cold Snap is essentially a big cup to hold ice and water which a beer can or bottle rests in to stay cold. The can or bottle is held in place with a simple snap in ring. Beverages stay ice-cold for over 40 minutes; simply adding more ice ensures you'll never be without an ice-cold drink, even on the hottest day. My Cold Snap is available on their website and can be ordered wholesale for re-sale or for using for an advertising specialty.
My Cold Snap in the Shark Tank
Texas natives Carlos Ortiz and Scott Duff come to the Shark Tank in episode 415 with their invention, My Cold Snap, asking for a $50,000 investment in return for 100% of the company, and a 12% future royalty. Drinking beer in the hot Texas sun often means drinking warm beer. Ortiz and Duff came up with My Cold Snap to combat the problem. Essentially, the product is a hand-held ice chest, intended to keep beer cold for up to 40 minutes.
The unusual strategy of offering up the entire company to the Sharks may backfire on the pair. Although the innovative product peaks the Sharks' interest, the offer raises red flags. Daymond John questions the strategy, saying "essentially, you want us to work for you."
Duff waffles a bit, but explains that they've sold 250,000 units through promotions. They'd contracted with a licensing company, which subsequently went out of business, leaving them with 20,000 units sitting in a warehouse. They reveal that they mismanaged their initial investment of $200,000, and that the inventory has been sitting in the warehouses for eight years.
Barbara Corcoran is not impressed with the pair's apparent lack of passion. "This feels to me like you wheeled a cold dead body out of the closet, and now you're looking for us to buy in. If you're not excited about your business, I can't get excited." She's out.
Robert Herjavec believes the business "was dead years ago." He's out. Kevin O'Leary doesn't believe he can make any money on the product. He's out. Daymond John tells them they've put too high a royalty on their product. He's out based on the valuation. Mark Cuban, the final Shark, quickly follows. The pair don't get a Shark deal.
My Cold Snap Shark Tank Update
Without a Shark deal, My Cold Snap quickly sank. Withinn a year of airing in 2013, they shut down. It's too bad; it looked like an innovative product. The Sharks gave this deal a cold shoulder, and My Cold Snap is no longer a presence online. The Sharks have made it very clear, over and over, that passion for the business is one of the biggest keys to getting a deal. When an entrepreneur is willing to sell out, and doesn't want to put in the hard work of promoting their own product, the Sharks will simply turn and swim away.
Posts about My Cold Snap on Shark Tank Blog
Hand Held Cooler Preview
My Cold Snap Information
Video: