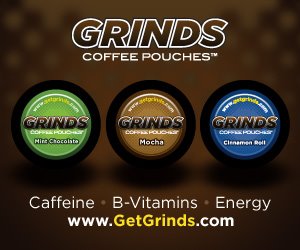 Grinds Coffee Pouches entrepreneurs Matt Canepa and Pat Pezet had to fail before finding business success. Both are former amateur and minor league baseball players and I always told my teams: "baseball is a game of failure, whoever fails less, wins the game." Think about it, if you fail two-thirds of the time (a dismal standard in most endeavors) at bat in baseball, you're in the Hall of Fame!
When the two entrepreneurs went back to school at CAL Poly, San Luis Obispo, to finish their degrees, they were up late studying and looking for a coffee jolt. Instead of brewing up a pot of Joe, they put wads of coffee grinds between the cheek and gums, just like a chaw of chewing tobacco, and Grinds Coffee Pouches was born! They started stuffing coffee grinds into pouches and made a business plan. They won two CAL Poly business competitions (and $18,000) and even got some of the judges to invest in Grinds Coffee Pouches. Since the pair had a baseball background, they traveled around to minor league parks, handing out free Grinds Coffee Pouches for free to players. By 2011, they had several flavors and some major leaguers touting the product
Grinds Coffee Pouches in the Shark Tank
Matt Canepa and Pat Pezet came to episode 413 with their Grinds Coffee Pouches, looking for $75,000 in exchange for 10% equity in the company. Pezet explains that the pouches have fresh coffee, and are supplemented with additives that are designed to keep the user awake and alert.
Canepa hands out samples of the product, which the Sharks, except for Barbara Corcoran, try. They're impressed with theflavor. In the first year, they sold $3,500, but they landed an endorsement from the San Francisco Giants' manager, Bruce Bochy. In their second year, they sold $135,000, and by the time they reached the Shark Tank, they were on track to do $300,000 in sales. The numbers look good, but will the Sharks bite on this coffee-flavored chewing tobacco alternative?
Barbara Corcoran loves the pair's "energy," but she says it's "just not a product I can relate to." She's out.
Kevin O'Leary tells the pair that they need capital to get the product to market before the big coffee companies "crush you like the cockroach you are." He makes an offer: $100,000, twice as much as they were asking for, in return for a $.25 royalty on every can sold.
Daymond John wants to know if they're "looking for strictly capital, or they're looking for the strategic partner."
Robert Herjavec makes a counter-offer. He's willing to give the pair $75,000 in return for 15%, but he wants Daymond John to join the deal, bringing his marketing expertise and channels.
Mark Cuban says "in any sport, you can play small, or you can go big." He sees the company as a "mid size" investment. He doesn't believe he can get enough return on his time, and he goes out.
The pair offer a counter to Herjavec and John, asking if they'd go to $100,000, in return for a slightly higher equity stake. The Sharks won't budge. The original offer stands, and the entrepreneurs accept the deal.
Grinds Coffee Pouches Shark Tank Update
The Shark deal did not go through, but Grinds Coffee Pouches is doing a brisk business through their website and online retailers. The pouches are flying off the website, and the company is booming. The Sharks bit hard on this coffee-flavored idea, and now they've hit a home run clear out of the park, helping chewing tobacco addicts quit, and adding a new, flavorful product to the list of Shark Tank success stories.
In 2019, the company spent $6.7 million when it relocated its production, fulfillment and distribution operations to Westfield, Indiana. Fast forward to August, 2022 and the company is still in business with $5 million in annual revenue.
Posts about Grinds Coffee Pouches on Shark Tank Blog
Coffee Pouches instead of Chewing Tobacco
Company Information