Episode 415 – Shark Tank Season 4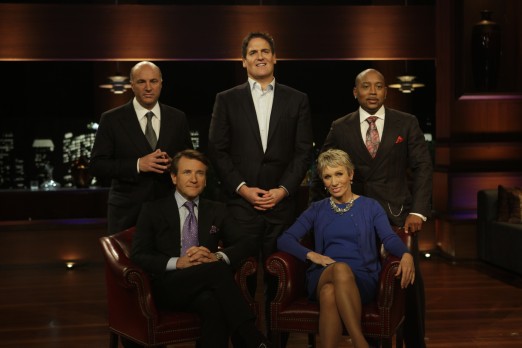 Episode 415 gets the second half of season 4 in cruise control! Rebecca Rescate, inventor of CitiKitty, returns with a new product called the Hoodie Pillow. Rebecca scored a deal in season two with Kevin Harrington and CittyKitty has sold millions of dollars worth of products since! Get Grinds, also appearing in episode 415,  is an invention designed to replace chewing tobacco with pouches full of coffee grinds. According to ABC, "two men from Austin, TX are willing to give the Sharks a 100% stake in their hand-held cooler business." Also appearing is Green Garmento, a recycled, reusable, dry cleaning bag that eliminates the need for disposable plastic bags in the dry cleaning industry.
Follow up segments featuring past Shark Tank success stories are a regular feature on Shark Tank.  Episode 415 updates fans on  Tiffany Krumins, the entrepreneur who scored a deal for AVA the Elephant with Barbara Corcoran in the very first Shark Tank, the pilot episode! Tiffany's story is one of success, overcoming great personal obstacles, and further innovation for AVA the Elephant and new projects.
There are 24 Shark Tank Episodes for Season 4. Casting is currently closed, but it never hurts to get a head start on season five! If you would like to appear on the show, check out our Auditions and Casting information.
Episode 415 – The Shark Investors and Entrepreneurs
The Shark Tank Episode 415 entrepreneurs will make their best pitch to the panel of five Shark investors who will use their own money if they choose to invest. The Shark Investors negotiate on the spot without any previous information, which differs from typical negotiations between venture capital investors and entrepreneurial start-ups.
Companies pitching the Shark Investors must go through a rigorous due diligence process before an on-air deal is completed. Shark Tank Blog follow ups help you keep track of the companies that end up successful and the ones that don't complete their deal.
Thank you for reading SharkTankBlog, the number one site for Entrepreneurs, Investors and Fans. Our content updates multiple times day, giving you the latest information on Episode 415, Season 4, and all other seasons and episodes.