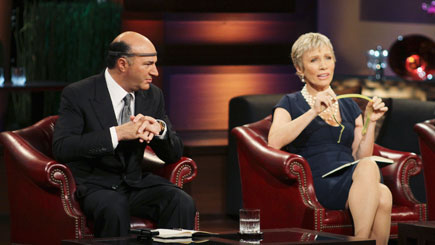 Mister Wonderful does fewer deals than any other Shark, but he's always making offers. He seems to make multiple offers every week, but they aren't always accepted. Mister Wonderful makes a BIG offer in episode 418, a million dollar offer at that! There was one other million dollar offer in season four; Lori and Mark made a million dollar offer for The Game Face Company, but it was rejected. They ended up making a deal with The Game Face Company, but not for a million bucks.
Mister Wonderful , according to ABC, will offer $1 million to one of the four entrepreneurs appearing this Friday. Will it be the Smart Wheel, Gotta Have S'More, How Do You Roll, or the yet to be discovered Online Therapist? Since Mister Wonderful  doesn't make offers that won't make him money, the recipient of the million dollar offer must have a big upside.
Who gets the offer from Mister Wonderful ?
A strong case can be made for the Smart Wheel. This invention by six New Hampshire Teens won accolades from the Secretary of Transportation and the President. Their patented technology may soon find its way into new cars as well. The Smart Wheel has game changing implications for how we drive and learn to drive, if Mister Wonderful  believes in the technology, this could be the business that gets a million dollar offer.
How Do You Roll is another business that could receive the favor of Kevin O'Leary's financial clout. The franchise concept is proven and unique; if he believes in this business, it's certainly big enough for a million dollar offer!
I can't see Mister Wonderful  offering a million bucks to Gotta Have S'More or an online therapist. Gotta Have S'More, while a good business, isn't in the million dollar league just yet. Online Therapy doesn't seem to be proven enough to warrant an investment at all from O'Leary; the business can't be found anywhere online either!
Who do you think gets a million dollar offer from Mister Wonderful ? Leave your guess in a comment!