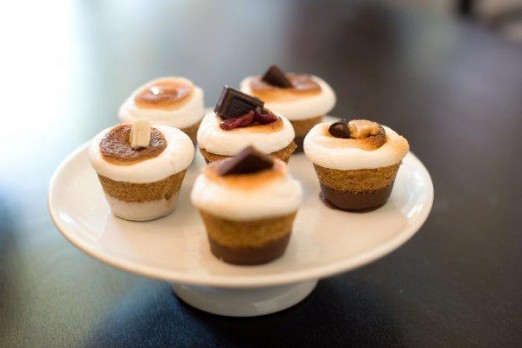 Gotta Have Smore? After feasting my eyes on the tasty treats created by Carmen Lindner, founder and CEO of Gotta Have Smore, I was craving the campfire confection. Carmen "invented" her twist on Smores after having an epiphany in the middle of the night a few years ago. Lindner pitches the Sharks in episode 418 on her Gotta Have Smore treats she calls Smuffins. A Smuffin, like the picture above shows, is a muffin shaped, layered Smore that's sure to have everyone yelling "I Gotta Have Smore!" The S'muffin layers the components of a S'more – chocolate, graham crackers, and marshmallows – in a muffin shaped morsel of decadent goodness. The S'muffins come in a variety of flavors that are sure to please any sweet tooth in the bunch. You can order online and even include a gift card when sending as a gift.
Gotta Have Smore Pitch
Carmen Lindner comes to the Shark Tank in episode 416 seeking $75,000 in exchange for 25% of her company, Gotta Have Smore. She presents the Sharks with her product, Smuffins. She passes out freshly baked samples of her sweet treats, made with dark chocolate, caramel, and milk chocolate.
Even with a mouthful of sugary treat, Kevin O'Leary goes right for the bottom line. He asks about sales, and Lindner responds that she's done $250,000 in two and a half years, in the local LA marketplace. Her forecast for the year is $165,000. She's been able to get into some local bakeries and wineries. With a cost of $9.95 per dozen, and a sale price of $29.95 a dozen, her shipping costs $54, prompting O'Leary to exclaim "stop the madness!"
The Sharks banter a bit over the shipping cost. O'Leary asks "Am I the only person who says that's insane? I mean, you FedEx these across the country, or you send your children to college." He's out.
Mark Cuban believes she should keep her Gotta Have Smore in the local LA market, saving on shipping. "You're so in love with your Smuffins that you can't see the dollars from the marshmallows. I'm out."
Robert Herjavec agrees. He doesn't believe that she needs to ship the products, and that she's creating an unnecessary challenge for herself. He's out. Daymond John follows quickly, going out as well.
Barbara Corcoran doesn't believe the Smuffins "taste anything" like s'mores. The final Shark goes out, and Lindner leaves the Shark Tank without a deal.
Gotta Have Smore Shark Tank Update
Although Lindner wasn't successful in the Shark Tank, her customers still love Gotta Have Smore. She was able to lower her shipping costs, negotiating better rates after appearing on the Shark Tank. Today her lineup includes holiday-themed Smuffins, as well as customized muffins that include the option to add a logo to the top of each treat. The Sharks might not have a sweet tooth for Gotta Have Smore, but the business is cooking right along, even without a Shark deal.
Carmen continues to run the business as of August, 2021 and has annual revenue of $5 million.
Posts about Gotta Have Smore on Shark Tank Blog
Smuffins Baking in The Shark Tank
Company Information