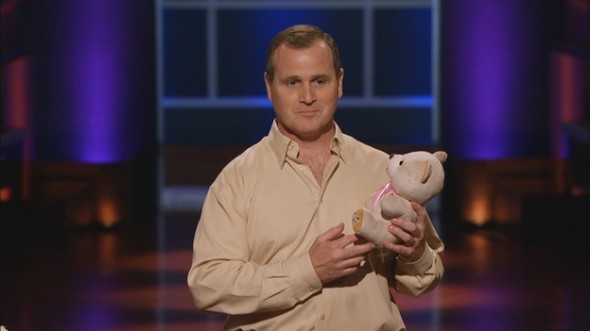 Mike Robinson got a reality check when he saw his Cuddletunes segment air in episode 415. His Shark Tank producer told him when he was done taping he'd "come off as a likeable guy." That's not what happened after the Shark Tank editors got their hands on the footage. Viewers might get the idea that Mark Cuban got burned in the Citel IPO Mike talked about the way he was staring him down! I caught up with Mike Robinson after the show to get his reactions on how the Shark Tank portrayed him, his product, and his company's value.
Cuddletunes History
Mike Robinson is a father of seven and a road warrior. He commuted from Seattle to London for the better part of seven years, spending 18 weeks a year away from his family. One night in 2008, his flight was delayed and his wife went to a dinner party solo. She ended up sitting next to Mike's future business partner, David LePenske, also a frequent traveler. They conceptualized what would become the Cuddletunes Bear at that first meeting.
"My wife told me about the discussion with David. They talked and he shared a story how his young daughter said 'I wish daddy was a doll,' before he went off on a business trip. We initially talked about having an American Girl sized "daddy doll" that you could customize to look like you. We realized producing it would be difficult and expensive, plus it had a 'creepiness factor,' so we decided to go with a teddy bear that could become a companion. The discussion occurred over months, but in the beginning of 2008, I left Citel and started Cuddletunes."
"I noticed I could connect with my older kids who had cell phones a lot easier than I could with the younger kids. Pre-readers don't have access to technology, so we wanted to make technology that was accessible to those kids. We had to re-imagine technology for pre-readers. Cuddletunes was initially an Android device, but the technology costs were too high. We took out the wireless device and put in a USB device."
"We tried to raise capital to get started, but the timing was bad. VC's weren't funding anything at that time, so we took a step back and simplified things. That's when we added music to the platform. I heard other 'personalized' kids music and thought we could do it better. On our platform, the child's name is seamlessly integrated into the songs. With other platforms, there's a noticeable gap. We wanted to make everything as easy and seamless as possible, that's why all the money invested in Cuddletunes is in the technology."
Mike Robinson in the Shark Tank
Unfortunately, Mike Robinson didn't come off as warm and fuzzy as the Cuddletunes Bear when he appeared in the Shark Tank. "Ultimately, you agree to go on Shark Tank to get a deal, and to be seen by 7 million people. The episode will live on in re-runs, but at least there was nothing negative about the product. They try to orchestrate drama in the post pitch interview and they do the same for the Sharks after the doors close. They didn't show the whole pitch. The Sharks were playing with the bears, but they didn't show that. You try to practice and prepare for everything that could happen. Barbara told the story about her father early in the pitch and she went out right away. That caught me by surprise."
"Even people we know were asking 'where did THAT come from?' We had a lot of positive comments on our Facebook page though, so we have support. People don't see the entire negotiation, they see what's condensed into that 5 or 6 minutes that airs and that's what they remember. The unfortunate thing is it probably inhibited traffic to the website. We had about 16,000 visitors, but it could have been more; we usually have three to five hundred a day. The good news is, we sustained that traffic."
Mike Robinson on Cuddletunes Customers
"I'd say over 50% of our customers are grandparents or parents who buy it for grandparents. We have a lot of military customers too. That was lost on viewers, they didn't show me talking about that. We do a lot with the military community; they're a substantial part of our business. Frequent travelers buy it too, and folks who just want an easier bedtime. Kids do like the music and hearing [a loved one's] voice."
"Right now, we're sticking with just the teddy bear, but we'll roll out different animals at some point. Lambs are a frequent request and we're finding boys would like to see a dog or maybe a dinosaur."
Reality Check on Valuation
"You have to remember, reality television is 10% reality and 90% television. Scott Jordan's segment is my favorite because he told it like it is and gave it right back to the Sharks. I've done lots of VC deals and Shark Tank is not at all like the real thing. You're in the Tank for an hour and it's cut down to five minutes. They create a distortion bubble around the real world, especially when it comes to business valuation."
"The way they value businesses on Shark Tank is BS, especially for start-ups. The value of a company is its future, not its past. The proof is in the stock market; prices change every day. For an established business, the last quarter's performance is a pretty good indicator of the next quarter. With a start-up, there could be a 1,000% difference! The Sharks value businesses like their money is worth four times as much as everyone else's. Most viewers don't have a financial background, so they don't get that; they buy into the simplified version they see on TV."
"I thought my valuation was reasonable. I was willing to roll the dice with the edit, but I would have liked to do a reasonable deal. The typical 'I'll give you $50K for 40% of your company' deal isn't something I'd do, but each business is different. Different margins make for different deals."
Mike Robinson may not be the storybook Shark Tank entrepreneur, but he has a solid business background and the Cuddletunes concept is sound. As a father of five myself, I completely get what he's doing. Mike has the business acumen and resources to see it through with Cuddletunes and the business should do well.
Mike had this parting thought when it comes to entrepreneurship: "Find something you're passionate about and dive in!"
I had one more question for Mike, check out his answer on The Hot Dog Truck.