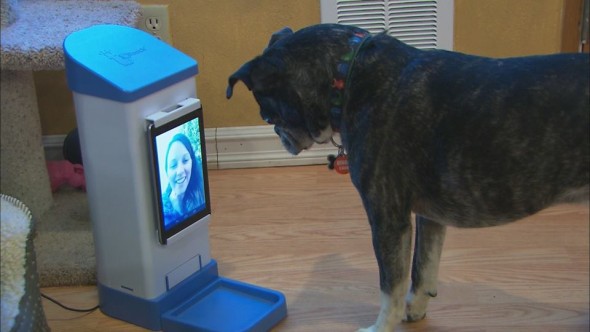 Dog lovers love their dogs and IC Pooch inventor, 14-year-old Brooke Martin is no exception. She wanted to be able to communicate with her new shelter dog while she was out of the house. Apparently, the pooch suffered from "canine separation anxiety." Dogs left alone for long periods of time can get destructive without their people around because they miss them. This tore young Brooke apart, so she invented IC Pooch.
IC Pooch is a treat dispenser that interfaces with a tablet. When you're away from home, you can video chat with your dog and give him a treat via the IC Pooch app. It's a twist on home security or baby monitor apps and Ms. Martin wants a Shark to join her company. She pitches the idea in episode 628 on Friday, March 20.
IC Pooch doesn't come with a tablet, so you need to add that cost to the $139 price tag. Brooke hopes people are willing to shell out that kind of dough to video chat with their dogs. She likely wants a Shark's help with manufacturing.
My Take on IC Pooch
I love my dog. She's the 8th member of our family. There's nothing I wouldn't do for the old girl, except maybe get an IC Pooch. Don't get me wrong, it's a very clever idea that could help a lot of dogs and their people. The thing is, I work at home, so I take my dog out for a walk several times a day. We even have lunch together!
I know many dog owners who will love this idea. People who work away from home want to feel connected to their pooch and Brooke believes the dogs benefit from the tablet based interaction. I just hope dogs don't learn to use the things! I can imagine grabbing the leash and having to wait for the dog to send a text!
That won't happen of course, but who knows? I do know dogs recognize images on video. Our dog gets excited when she sees videos of our college kids, she also barks when there are other dogs on TV. Dogs who are left alone all day will probably be, at the very least, amused by this new technology.
Do Sharks "C" the benefit?
We all know pet products have a "ruff" time in the Tank, but will IC Pooch be one of the exceptions? Maybe Brooke could team up with Ry's Ruffery and to a joint venture on dispensable treats.
Robert is the Shark most likely to take an interest in IC Pooch; it's a merger of his tech background and his love for dogs. If the numbers are there, he could bid. Lori might bid too if she thinks it will sell well on QVC, but she generally stays away from pet products. Daymond is probably out too.
Mark like gadgets and he likes giving young entrepreneurs a hand up, so he could invest if there's enough skin in the game for him. Mr. Wonderful will undoubtedly float one of his royalty deals, just for the heck of it. Brooke will likely field an offer for IC Pooch, it's just a matter of whether she'll accept.