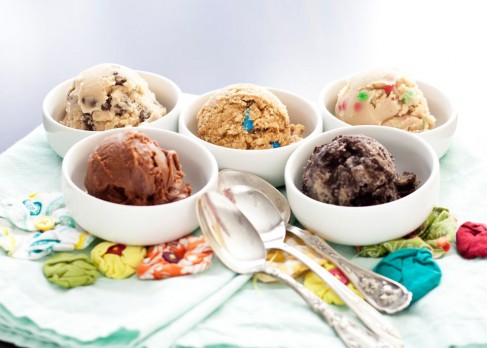 If you ever licked the cookie bowl after mom made cookies or you enjoy cookie dough ice cream, you'll love the Cookie Dough Cafe's edible cookie dough desserts. Sisters Joan Pacetti and Julia Schmid hope the Sharks like their egg-free edible cookie dough when they pitch the business in episode 502.
They make their edible cookie dough to eat right out of the jar; in fact, you can't even bake cookies from it! The Cookie Dough Cafe makes their cookie dough with fresh, all-natural ingredients and immediately freezes it. Once it makes it to your home, simply defrost and enjoy.
The ladies say they like "food and fashion," so they have very sleek packaging, but the food inside is what counts. They started the business in the fall of 2011 and by all accounts, people are going crazy for the stuff. With flavors like Chocolate Chip, Monster (peanut butter cookie dough loaded with real M&M candies, chocolate chips and rolled oats), Cookies & Cream, and Gluten-Free Peanut Butter Chocolate Chip, there's something for everyone.
You can find The Cookie Dough Cafe's products in over 90 Fresh Markets nationwide and in over a dozen mom and pop markets.
My Take on Edible Cookie Dough
All I can say is I WANT SOME! I used to make cookie dough for the sole purpose of eating it. When I did it, I made it like regular cookie dough – with eggs, but it never got me sick. I can see why they'd make theirs without eggs though. The fact is, cookie dough is a decadent treat and people will buy it. It's almost like an ice cream alternative.
I think back on the Schulzie's Bread Pudding pitch and put the Cookie Dough Cafe in that food class: untraditional but traditional and 100% richly delicious. I would buy a jar of this stuff any day to try – God help my waistline if I really liked it!
Dough Sharks Invest their Dough?
One thing the Sharks like is yummy treats. I can see them fighting over these flavors. As a business investment, I'm not sure edible cookie dough will interest them – unless the numbers are extremely good. One thing that makes me think they might get a deal is they recently re-designed their packaging. The new jars have a "we got a deal with a Shark" look to it, so maybe someone bites.
Whether it's Mark, Daymond, Lori, Mr. Wonderful, or guest Shark Steve Tisch remains to be seen, but I am ALL "IN" with a jar of Monster Cookie Dough!