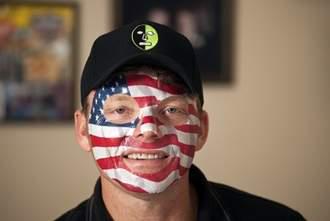 Peel off face tattoos are entrepreneur Doug Marshall's answer to the rather messy practice of face painting and they are the basis of The Game Face Company. Marshall will pitch the Sharks on the merits of face tattoos versus face painting in episode 412.
Just about everyone has seen fans at sporting events with their faces painted to show support for their home team. Doug Marshall was one of those guys, but he didn't like the face paint getting all over his clothes, so he looked for an alternative. When he found none, he applied for a patent for temporary face tattoos; they work like regular temporary tattoos, but they come off in 24 hours without a lot of scrubbing. Once Marshall received a patent pending for his face tattoos, he set about finding a manufacturer and founded The Game Face Company.
Face Tattoos go Beyond Sports
When he first started The Game Face Company four years ago, Marshall created face tattoos for his alma mater, Texas Tech University. He didn't use logos, he just used the school's color scheme, so he had no trademark issues. He grew his line to include color schemes for dozens of colleges and he created some "generic" face tattoos like referee stripes, zebras, etc. He trademarked the phrase "get your game face on" and expanded to include pro football teams' colors.  Colors can't be trademarked, so Marshall didn't have to worry about trademark or licensing issues – a brilliant move IMHO.
Marshall may not have pursued licensing, but it pursued him! He soon had deals with Marvel Comics for costume themed face tattoos featuring popular Marvel super heroes like Spider Man, Captain America, and the Hulk. He even has KISS face tattoos! The Game Face Company wholesales these licensed images to the respective parties and sells them on his website. The Game Face Company has other, unlicensed images on face tattoos like Halloween themed witches, pirates and his biggest seller, the skeleton face tattoo. Marshall is even selling camouflage face tattoos to the United States military. The Game Face Company clearly has its game face ON for the Shark Tank.
Will Sharks get Tattooed?
On the surface, The Game Face Company has a robust business. Marshall states about 80% of his sales are through the wholesale channel. He is constantly adding new sales channels and developing new products and uses for the face tattoos. They even act as an SPF 50 sun block! All this may impress the Sharks, but the true test will be the sales volume and margins. 2011 sales topped $110,000. I think the boys, particularly Mark Cuban will "get" what Marshall is doing and he could get some offers.
One thing that might bite Mr. Marshall is The Game Face Company is a part-time job. He works full-time as a sales rep for a local copy machine company while Mrs. Marshall does the books and handles The Game Face Company's administrative duties. The "all in" mentality the Sharks frequently demand is lacking in Mr. Marshall's day-to-day operations and, despite huge opportunities for the business on the horizon, it could be the death knell for the Sharks.
The looming million dollar offer from Lori Greiner and Mark Cuban could be for The Game Face Company. It's a fun product with mass appeal that doesn't cost too much and if users have a good experience with the products, they're likely to buy again. If they're smart enough to see the solid growth progression and huge upside for licensed face tattoos, Mark and Lori could be getting their game faces on too.
I am "IN," with silver and blue, New England Patriots themed face tattoos!