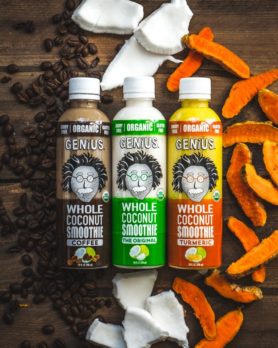 Alex Bayer started Genius Juice back in 2014 to eat healthier. He became a "smoothie-holic" to avoid unhealthy junk food. When he tried his first coconut smoothie, he thought it was "GENIUS," hence the name of the company. and Kickstarted it forward in May, 2015 with $15,375. His smoothies were very popular and he had broad distribution in several national chains.
Something went horribly wrong for bayer back in 2016 when his packer couldn't keep up with demand. He tried to pivot and re-brand other healthy drinks, but people didn't embrace them and he lost a lot of shelf space in the national chains. Now, he has a new packer and he's starting to get commitments from the Whole Foods and Natural Grocers of the world. Things are looking up.
Bayer imports coconuts from Thailand. Apparently they're the best kind for making smoothies. Genius Juice is a pretty simple product: it's coconut meat with coconut milk blended into a smoothie. When he's done making smoothies, he turns the coconut shells into charcoal and fuel, so there is zero waste in the manufacturing process.
There are three flavors –  original, tumeric and mocha. A six pack costs $49.99 – over eight dollars a bottle – making it an expensive drink. He claims to have over $1 million in sales and he's in around 1200-1300 stores (despite his troubles three years ago), so people must be buying it. He'd like a Shark to help him sell Genius Juice to more people.
My Take on Genius
Every time I go to our local farmers market, I get a coconut. The lady puts a hole in it and hands it to me with a straw. They cost four bucks and they're delicious. I also sometimes buy coconut water to drink when I'm fishing on a hot day. I would like Bayer's smoothies.
The thing that sets me off is the price. At north of eight dollars for a ten ounce bottle, it's more expensive than most of the wine I buy. I might try it as a once in a while indulgence, but I couldn't see drinking it regularly. That said, I know people who overspend for the best and this stuff isn't just the best coconut smoothie on the planet, it's the only one. I'm in.
Will Sharks Think this is a Wise Investment?
Despite Rohan Oza being on the panel, I don't think Bayer gets a deal. The Sharks won't like the suspension of the business a few years ago and they may be put off by the price like me. Bayer seems to have his business pointed in the right direction and he'll likely fare well with or without a Shark, but something other than my usual gut instincts tell me he doesn't get a deal.
Bayer has a WeFunder campaign starting the day his episode airs. It's a smart strategy used by many others who used their Shark Tank appearance to bring publicity to a crowdfunding campaign. The thing is, when an entrepreneur uses crowdfunding after their episode airs, it usually means they didn't get a deal.