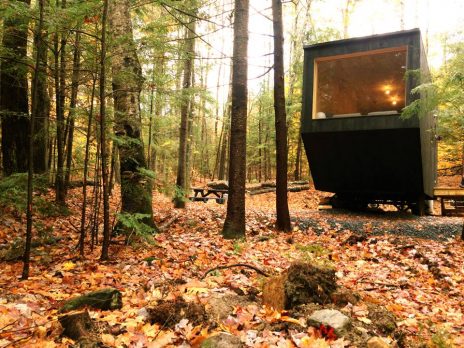 Pete Davis and Jon Staff want people to get away from their hectic lives and get closer to nature. They deliver the promise with their tiny house rental/vacation business called Getaway. Tiny homes on wheels are the new rage in the USA as many people want to simplify their lives. Getaway offers an introduction to the lifestyle for those seeking to pursue it. It's also a great way for city dwellers to unplug, unwind, and commune with nature.
For $99 per night during the week or $129 per night on weekends, two people can occupy a tiny house in a secluded, rural location. The locations are "secret" until a week or so before the booking – supposedly to take the stress out of planning. The tiny homes are within a two-hour drive from either Boston or New York. Each house comes with provisions for the stay and linens. There's no cable or wi-fi either.
Since starting the business in Boston less than two years ago, they expanded to New York City and actually have more homes in the Big Apple. Bookings go out six months as of this writing, which speaks to the popularity of the concept. It seems city dwellers like the idea, but will the Sharks?
My Take on a Tiny House Get Away
Like many Americans, I have a lot of experience with living in a tiny house for a weekend. It's called camping! Over the years, I stayed in many trailers, small cabins, lean to's and tents while exploring the outdoors. As a young man, my idea of a fun weekend was strapping a pack on my back and disappearing into the White Mountains for a few days.
Now that I'm older, the idea of sleeping on the forest floor isn't as appealing. I (and my back) grew to really, really like beds over the years. I still enjoy the outdoors though, which is why the Get Away concept appeals to me. If the wife and I could go camping for $260 for a weekend and not have to worry about packing much, it would be worth it – especially if there is a soft bed waiting at the end of the day. For that reason, I'm in.
Will Sharks want to Get Away?
This is a simple business. Buy a tiny house and rent it. The acquisition cost for a tiny house is as little as $7000 for a pre-fab structure and as much as $35,000 for a tricked out house. My guess is Getaway's is somewhere in between. The company proved the concept quickly. Name any hotel that wouldn't want near full bookings six months out. The other costs are insurance, provisions, land rental, and customer acquisition costs.
If Pete and Jon have a solid grip on these numbers and can demonstrate profitability, they'll get offers. They need to grow the concept to other metropolitan areas to make the company really big. I think there's a big market for this service and the Sharks will agree.
Barbara, the real estate expert, might have an interest. Chris Sacca, a proponent of innovative ideas may have an interest, too. Mark, who along with Sacca invested in Rent Like A Champion last season, could bid as well. Essentially, Getaway is an AirBNB for idyllic tiny homes. The Shark swill recognize that. If the numbers add up, look for multiple bids.