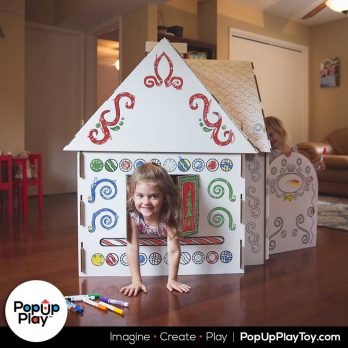 Pop Up Play creators Amelia Cosgrove and Bryan Thomas know one thing for certain: kids LOVE forts. Kids also love their (or their parents') tablets and iPhones. The husband and wife team figured out a way to merge the two and educate kids along the way with their concept. Kids design their own forts or playhouses in an app and for $99 mom and dad get the playhouse shipped to the home, ready for assembly and decoration.
They came a long way with Pop Up Play in a very short time, In November, 2015 they got their start with a Kickstarter campaign that raised a little over $25,000. They also have several angel investors. To date, they have over $200,000 in sales and high hopes for the future.
As I said above, kids love forts. They also like creating things and Pop Up Play lets a kid see (and play in) the manifestation of their creation. Kids build their fort in the design lab in the app and the fiberboard forts come ready to go. The kids learn some basic engineering skills during the build. The ability to teach STEM based principles is the core of the concept, but the end result is FUN.
My Take on Pop Up Play
Pop Up Play is a modern version of the old refrigerator box. My kids LOVED it when an appliance broke down because they knew a new one, with the accompanying huge box, was on its way. All my kids spent countless hours playing in box forts. They even slept in them. That's the whole point, kids love that stuff.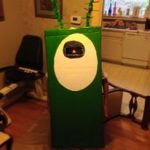 My 12-year-old likes getting creative with big boxes. Last year she made a Plankton Costume for Halloween. It's not a fort, but it was a creative use of an old box. She's had her share of box forts, too. When I showed her the Pop Up Play design tool, she fiddled around with it and deemed it "AWESOME," but she said she was "getting too old for those kinds of forts."
The product is aimed at the 3-10 year old demographic and I don't know one kid in that age group who wouldn't love this. For that reason, I'm in.
Will Sharks want to play?
Amelia and Bryan raised $25K and got $200K in sales in less than a year. Those are good numbers for a small business, but the Sharks want bigger numbers. We will undoubtedly hear Mr. Wonderful tout his toy industry experience at some point during this pitch. That experience could come in handy for Pop Up Play. Licensing this to a major toy manufacturer gives the business immediate scale without sacrificing the STEM-based principles. It makes O'Leary's "Reader Rabbit" look like a coloring book by comparison.
Other Sharks might be interested too. Since it has a technology component, Sacca and Cuban could bid, but I think the "sleeper Shark" for this pitch is Lori. She likes easily demonstrated products, moderately priced, with mass appeal. With her connections, she can get production costs down while preserving margins. The QVC crowd would eat this up, too. I'm betting on Lori for a long-shot, but don't count out Mr. Wonderful.