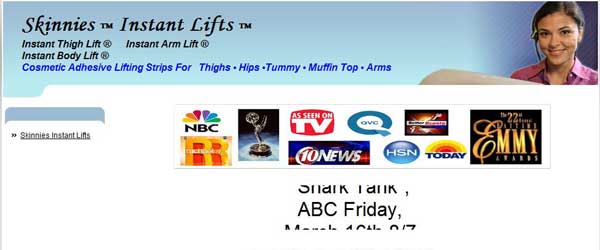 Nick LaRosa & Penilopee LaRosa will be diving into the Shark Tank this Friday night to pitch their product called Instant Lifts. What this product does is remove the appearance of cellulite and wrinkles on the legs, arms, and even the tummy. The Instant Lifts website is loaded with "before and after" pictures which show some pretty substantial results.
Instant Lifts aren't some cream or toning lotion- they're essentially pieces of specially made tape that stretch and smooth out the skin's appearance while affixed to the body. Vanity sells and judging from navigating around the Instant Lifts website, they are doing a decent job of selling their product. They have had a fair amount of media attention and they are affiliated with the "As Seen on TV" website.
Instant Lifts Made In The USA
One thing I like about Instant Lifts is they are Made in the USA (Kevin O'Leary won't like that). I am not sure I would be a candidate to purchase this product. I have no cellulite and even if I did, I don't think I would tape up my body. There are a lot of folks out there who would use this, however.
I can hear the objections from the Sharks already. The product has been out for a while and, while there is a patent pending, it doesn't appear there is anything proprietary about body tape other than their unique design. I am sure some well placed medical tape could do the same thing. I am willing to bet that is the main objection. Sales volume may be another objection. If the Sharks feel the market for these products is mature and doesn't have room for expansion, they will be OUT.
This sounds like I will predict they don't get funded, doesn't it. I believe they will get funded though! They recently changed the name of the product from "Instant Lifts" to "Skinnies." The tag line on the website says "Same great lift- fun new name." The new Skinnies packaging is modern and hip looking and says it's "NEW" on the packaging.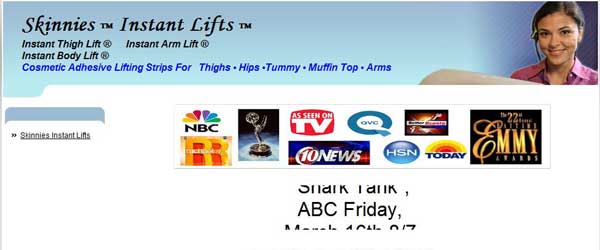 Smooth Sleepers, an adhesive strip claiming to smooth wrinkles around your eyes while you sleep. The Smooth Sleepers website features a very slickly produced "As Seen on TV" type commercial and it has all the "new" Skinnies on sale there as well. What I believe will happen is they will come in and pitch the Instant Lifts as a proven product and the Sharks will smell blood. Then, in classic TV product sales style,  the LaRosa's will hit them with "but wait, there's more." That's when the Smooth Sleepers come to the negotiating table and they score a deal.
The name change and new packaging on the Instant Lifts, the slick video for Smooth Sleepers and the new website make me predict Instant Lifts gets funded.