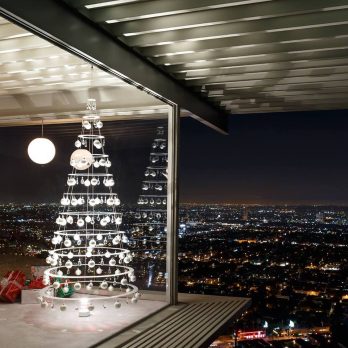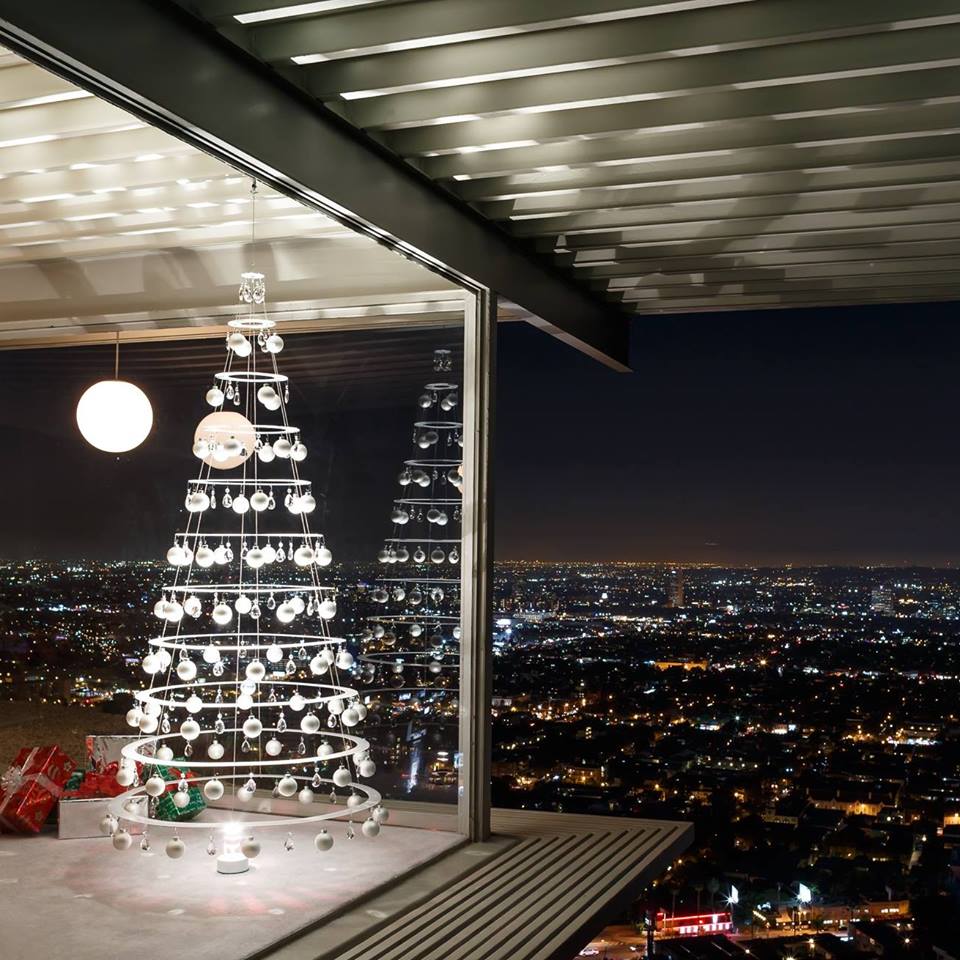 Modern Christmas Trees were originally envisioned by Lawrence "Bud" Stoecker, the grand father of Matt Bliss. Matt enters the Shark Tank in the Shark Tank Holiday Special to pitch his version of the product. Sadly, Mr. Stoecker died in 2012 from Alzheimers, which inspired Mr. Bliss to market Modern Christmas Trees to the world.
Mr. Stoecker was a NASA engineer who left his job to build A-frame cabins throughout Colorado. His style leaned toward mid-century modern, a clean, simple form of architecture popular in the USA from the 1930's to the mid 1960's. Stoecker brought that sense of design to the Christmas tree when he created the first iteration of Modern Christmas Trees when Matt's parents were just kids.
It isn't really a tree at all, it's more like a cone. Concentric rings of differing sizes create a tree-like look, but with a very modern flair. The first version was cardboard. The following year, Stoecker made one out of wood, then plexiglass. The plexiglass tree became a Christmas staple in the Stoecker household for years to come.
In 2011, when Mr. Stoecker began to fail, Matt started tinkering with creating a new version of Modern Christmas Trees. He went slow at first, but sold nearly 200 to customers like Disneyland, Red Bull, and The National Association of Manufacturers. Now, Matt sells the trees in a variety of retail outlets and on Amazon. $50 from each sale goes to the Alzheimer's Association. Matt has great love for his grandfather and his creation and he hopes the Sharks share his love this Christmas and for many Christmases to come.
My Take on Modern Christmas Trees
Last year, my wife and I purchased a mid-century home, built in 1959, from the original owners. The "guts" of the house were good, but they stopped decorating in 1978! Covering up some of the wonderful mid-century elements were 1970's horrors such as wall-to-wall, cream-colored shag carpet throughout the entire house, tired faux butcher block formica counter-tops, drop ceilings, and crummy paneling.
My dad and I spent six months ripping out walls painting and generally bringing the place into the new millennium. While we have a "new" house now, I saved the soul of the home. Under the carpet were gorgeous terrazzo floors which we refinished to their 1959 shine. I kept all the original cabinetry, too. Other elements like sliding closet doors were preserved and I opened up the drop ceilings to reveal soaring gabled ceilings which opened up the space. To top things off, new, modern light fixtures replaced the tired fluorescent lighting installed in the 1970's. Once finished off with period furniture, the place looks like something out of a magazine. We just love it!
I love this tree too. It would look perfect in our house. There's something about the mid-century style that touches me. Maybe it's the fact that it reminds me of my grandparents' homes or perhaps it's just the clean, minimalistic look. After raising five kids in a crowded, cluttered home, I am digging the minimalist look and lifestyle. When I saw this product in the press releases, I showed it to my wife.  She loved it too. We won't have one this year, but next year, it's on my list! I am in.
Will the Sharks Light Up over this Product?
There's no doubt there will be a lot of people, perhaps even Sharks, who don't like this tree. The mid-century look is not for everyone. Those who are fans will undoubtedly enjoy this tree. The biggest question the Sharks will have is will this appeal to too small of a niche.
Unlike the other Christmas Tree product (Christmas Tree Hugger) on the Holiday Special, Modern Christmas Trees don't have the advantage of ubiquity or mass appeal. Someone who has a country-style home won't want a plexiglass ringed tree. Of the 10 million fake trees sold every year, very few will be Modern Christmas Trees. It's not a knock on the product, it's just a fact.
Despite the high margins (each tree costs $700), the Sharks want big markets, not niches. While I don't think the Sharks will disparage the business, it ultimately doesn't fit the typical Shark Tank business profile. I don't think Bliss walks away with a deal, but you never know – it is Christmas time after all.