Mike Kane is the co-founder and CEO of Cell Helmet. He'll pitch the company, along with business partner Dave Artuso, to the Sharks in episode 417. While trying to verify which cell phone case business was going to appear on the show, I stumbled into a conversation with Mike on the phone. He wouldn't tell me what happens next week, but he shared some history about himself, Cell Helmet, and the road to Shark Tank.
Mike Kane Cell Helmet History
"I had a landscaping business and my partner, Bryan McHenry, was doing graphic design. We were sitting around thinking of business ideas, so we did a little research and found out the top-selling items on eBay were cell phone cases and accessories. We each kicked in $350, ordered a bunch of cell phone cases from China, and started selling them on eBay and CellPig.com. At first, it was just us packing up cases a few hours a week. With the growing popularity of the iPhone, we started to narrow our focus to just Apple products."
"Eventually, we decided we wanted to make a protective cell phone case of our own. Our original intent was to design an indestructible cell phone case. What we came up with was a design that was like everything else out there, so we scrapped it and designed something simpler. To set us apart, we came up with the idea of a guarantee. If your phone breaks while it's in our case, we'll fix it. We are the only cell phone case maker on the planet offering that kind of guarantee."
"What we do is set aside a percentage of every sale we make, and put it in a special fund for repairs. Right now we have 52 repair facilities we contract with nationwide. Simply ship your broken phone, or if you live nearby – drop it off, and it will be returned in 72 hours. We're bringing more facilities on in the coming weeks."
Mike Kane on Kickstarting Cell Helmet's Trip to the Shark Tank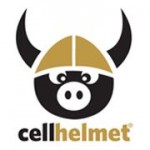 Mike Kane and his girlfriend are big Shark Tank fans. They've been watching since season 1. "I remember watching the College Hunks Hauling Junk pitch and loving it," he says. "We still watch regularly." Mike reads The Shark Tank Blog, too. "We were wondering when you were going to call!"
Cell Helmet had a successful Kickstarter campaign; they raised over $19K (they were only seeking $10K). This Shark Tank season features many "Kickstarted" businesses, and a producer contacted Mike Kane through a mutual acquaintance. Cell Helmet applied to be on Shark Tank in March, 2012 and ended up taping in September.
"We taped with the Proof Eyewear guys," Mike explains, "Bryan didn't make the taping because he got married the night before we flew to LA. He got married on a Saturday night; Dave and I got back from the wedding after 1 AM and flew out at 5:30 Sunday morning. While we were pitching the Sharks, Bryan was on his honeymoon!"
Mike, of course, wouldn't share the outcome of the pitch, but we agreed to speak again in a week or two to get the other side of the story. He did say "a lot is going on and the company is doing quite well."
Cell Helmet Making it in the USA
"90% of everything we do is in Pittsburgh, that includes manufacturing and customer service. We have a 24/7 call center here. It's comforting to customers to speak to a human being when they call, especially an English-speaking human being from Pittsburgh. We've really ridden the last year on Pittsburgh's shoulders. What we want to do is sell a simple cell phone case and be the bad-ass company that stands behind it."
In addition to cell phone cases, Cell Helmet is rolling out iPod cases in a few weeks and iPad cases "are coming soon." The Cell Helmet guys are juicing up their website and preparing for an onslaught of traffic and interest. They're running on Shopify, so they'll probably be OK!
Mike told me they're moving their offices to a new spot just 4 blocks from The Original Hot Dog Shop (known as The Dirty O), an iconic Pittsburgh hot dog joint. This prompted me to ask him one more question. Get his answer at The Hot Dog Truck.