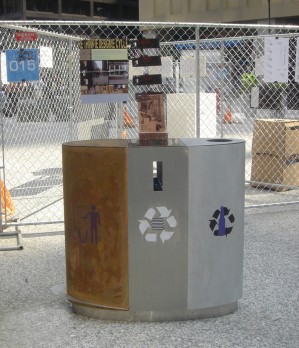 Like many good ideas, the concept of designing a recycling container came about during a candid conversation with my co-worker while I was working at SOM LLP, an architectural firm in Chicago. The YAF co-chair (Young Architects Forum) affiliated with the AIA (American Institute of Architects) was spearheading the 'reThink/reDesign/recycle' design competition which evolved from a group of YAF members, to design a recycling container for the streets of Chicago.
Within a few days, I had a partner join me and after several sketches in my sketchbook, the image came to me the night before I was planning on going into the office to work on our poster submission. It was a Sunday and 9 hours later, the concept evolved into a three-dimensional reality. 25 designs were short-listed from over 125 entries worldwide and we were given only a month to produce a prototype, which was then presented and anonymously judged by seven judges in Daley Plaza, Chicago . The judges – architects, designers, waste management professionals and City staff, awarded the first place win to EcoTrio by Mayor Daley and AIA President.
Eco Trio Wins in Chicago
Following the competition, the City of Chicago provided a grant (with the help from Mayor Daley) and with this grant EcoTrio, LLC, AIA and City of Chicago produced 11 containers which are currently installed in Millennium Park, Chicago. Eight months later, EcoTrio 'Millennium' then won the '2008 Good Design Award' Environment for the design of this container in Millennium Park. Each container in this park showcases a plaque to commemorate the competition and reminds the 5 million annual visitors that pass through the park each year, the evolution of this container and how it came to be.
EcoTrio, LLC was formulated two months following the win and owns (2) design patents, one for 'The Street' Original design and the other 'The Millennium'which is currently in Millennium Park Chicago. The intent of this company would be to market these products in cities that are ecologically aware all over the world. I have spent the last 8 years solely on my own, developing several products for business and home use and currently selling 'The Street' version in stainless steel brushed satin finish for indoor and outdoor use. The partner I had worked with on this design competition had no interest to pursue this business and didn't want to invest any of her own funds, which led me on this pursuit on my own, since the company's inception.
As of 2013, this entrepreneurial business is now my livelihood and remained a passion for me, even while I worked as a Design Architect for the last 12 years, since I graduated from the University of Toronto with a Bachelors of Architecture degree in 2000. I have accumulated a huge library of recycling containers all over the world from magazines, blogs and travels. I had a keen interest to see how other recycling containers were fabricated. This passion is continually evolving, as I am currently researching plastic fabrication overseas for the 'home-use' containers and locally here in USA and Canada.
Perhaps, this recycling container may not be a 'wacky' idea which may help cast EcoTrio to appear on Shark Tank, Season 5. However, what holds true is this product, which evolved simply from an idea has compounded into a multitude of opportunities (lectures, exhibits and numerous publications) worldwide, expressing the importance of recycling.
EcoTrio, LLC would like to expand this business for home-use plastic containers but in doing so, hope a venture capitalist who shares the same vision will agree that EcoTrio's products with their unique design and versatility will be the first choice for home users, institutions, governments and businesses for decorating their homes and disposing their waste and recyclables in style.
This guest post was written by Deborah Kang, the owner/ founder of EcoTrio, LLC and the designer of EcoTrio containers. Deborah graduated with a Bachelors of Architecture degree from the University of Toronto in 2000, where she earned an 11th place showing for her unique design in the 1999 Bolder Furniture Competition. http://www.ecotrio.com/