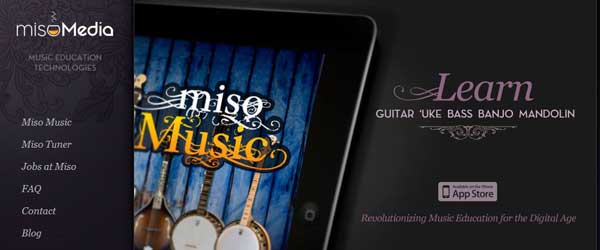 Miso Music made a big splash in the Shark Tank last night when Mark Cuban offered $300k for 8% and company founder and CEO Aviv Grill accepted. In an innovative pitch, Ingrid Michaelson came on to play a song after Mr. Grill demonstrated the app by "learning" one of her songs. The Miso Music Shark Tank Episode was filmed after the company raised $600,000 from Google Ventures and others (including Justin Timberlake) in December 2010, but prior to a September, 2011 round of funding from Mind Fund, Aria Ventures and Detroit Venture Partners. That makes Miso Music pretty well capitalized!
There is no news yet as to whether the deal with Cuban went through or not, but Mark made a classic Shark move, waiting until the last minute to jump in with an offer. He even Tweeted "A good investor buys where the company will go, not where the company has been." Mark Cuban is no stranger to tech start-ups, he made his first millions with a company called  MicroSolutions, which he sold to Compuserve for $6 million in 1990.
Whether Miso Music is Cuban's next big tech score remains to be seen, but the power of the Shark Tank caused Miso to have a very real problem: their website crashed immediately after the show! Miso Music founder Avril Grill issued this statement on Twitter: "Our Servers are down due to the high traffic from SharkTank. Our website and inApp store are down cuz of this! Sorry for the inconvenience." While getting gobs of traffic from the show is a good thing, crashed servers are not.
Some of the folks following the show on Twitter were a bit irked by the Miso Music app's new $0.99 price tag. On the Shark Tank Episode, Mr. Grill stated the app was free. To be fair, the show taped in July and a lot can change in seven months.  According to Miso Music's Facebook page, they were the number twelve best selling paid app before the Shark Tank aired last night. After the West Coast aired, they'd moved up to number ten, edging out Angry Birds (that will make the birds angrier no doubt).
It will be interesting to watch Miso Music going forward. Barbara Corcoran's disdain for investing in apps may have to be re-thought if Miso Music turns out to be a winner!