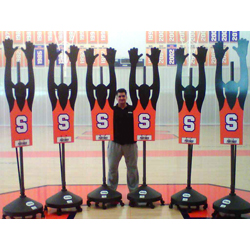 Profender is the basketball training tool introduced on The Shark Tank Episode 305 last week. I spoke with Profender inventor Tony Devine recently to get his take on his appearance. Tony is a Special Education teacher and basketball coach. He has coached basketball at pretty much every level from youth ball all the way up to the high school varsity level. He prefers the role of assistant because he "likes working with the kids and not having to deal with all the administrative work" the head coach has to deal with.
I asked Tony about the week after his Shark Tank appearance. His website did not crash, which is a good thing. There were a lot of inquiries about the Profender, and he sold 10 units after the show aired.  "We sold 5 units to a trainer in Cincinnati. Once coaches see it, they see the value immediately."
Tony was responsible for setting up one of the more humorous segments on the Shark Tank this season when he introduced "The OFFENDER," a Profender with Kevin O'Leary's face on it. I asked what Kevin thought of that. "Being from the east coast, we like to bust people's balls. Kevin O'Leary is a real ball buster himself and, like a true ball buster, he didn't mind getting his broken."
In fact, Tony said "all the Sharks were fair- I liked them all." He did say that editing plays a big role in the Shark Tank. "It took Mark Cuban around 15 shots to score a basket, they edited that." Like many other entrepreneurs I have spoken to, Tony describes the first minute or two in the Shark Tank as the most uncomfortable. "You come out and they have you stand there for a minute or two. They're just staring at you in total silence, it's uncomfortable, but I think it's just some kind of ploy to make you nervous."
Editing also played a role in the representation of the less expensive model of the Profender. "They edited out a lot of that stuff," said Tony, "I think the whole $199 model concept was lost on the Sharks. Mark Cuban said 'with my help, we could put this in every driveway.' I bit my tongue, but I felt like saying 'let's do it then!' But I don't have any regrets."
Tony says the ultimate goal is to have the less expensive model of the Profender mass produced. "That's what the investment was for, to create the plastic molds needed for the $199 model. We are in the first tier of the patent process and the Profender trademark is in process too." Once he can mass produce the Profender, he hopes to get NBA and NCAA team licenses  "so a kid can simulate playing against his hero or favorite team." He has some other investors lined up, but right now product sales are funding his growth.
Tony does read this website and he is a fan of the show. His favorite pitches from this season were Easy VIP and Scott Jordan's TEC. "I HATED Scott on TV so much, I loved him- he was like a bad guy wrestler." Tony has purchased some lip balm from Nardo's Naturals too. We here at the Shark Tank Blog wish Tony the best.
I did ask Tony "The Question," and you can read his answer here.