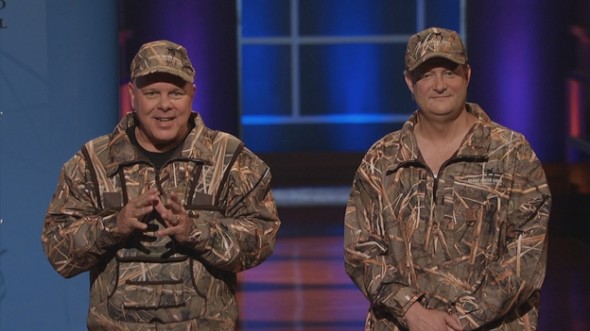 When I called Mississippi for a Muddy Water Camo update, I had to wait; Steve Maloney and Stephen Kirkpatrick were busy talking to Mississippi Governor, Phil Bryant.  Mr. Bryant got wind of Muddy Water Camo's Shark Tank appearance and wanted to meet the two "huntrepreneurs." Apparently Supreme Court Justice Antonin Scalia did some duck hunting in Muddy Water Camo gear last season and word got back to Governor Bryant that he had good things to say about the company. Maloney and Kirkpatrick have become rock stars in their community, and, like any good politician, Mr. Bryant went to meet them in person, lest they throw their support to another candidate next election season!
The Governor was doing the right thing: associating himself with winners. Even though they didn't get a deal on Shark Tank, the Muddy Water Camo guys scored big. In just over a week, they've leveraged their appearance like a couple of PR pros and are poised to take their business to new heights. I called Steve and Stephen to get a Muddy Water Camo update, but I was nervous about following their gubernatorial visit!
Muddy Water Camo Update on Mississippi Politics
Maloney, a former attorney, and Kirkpatrick, a renowned wildlife photographer, were excited to meet the governor, but the visit was about business, not politics. "He wanted to congratulate us," says Maloney, " and see if there was anything he could do to help our business." It's this  kind of attention that the business partners are getting used to. "Since we aired, we've got a lot on our plate. Between Shark Tank and a segment filmed for CNN, interest in Muddy Water Camo has peaked. We've got a good amount of PR; we figure it's worth almost $4 million – and that's not including Shark Tank."
PR is something the guys are familiar with. Marlo Kirkpatrick, Stephen's wife, has an advertising agency. "She sent in an email to Shark Tank. I forgot about it and maybe three weeks later I was driving down the highway when a producer called. I just about drove off the road! We talked for about three minutes – she'd seen our video on the website, so as the next step, she sent us a big pile of paperwork."
Muddy Water Camo made the cut and hey taped in September. Waiting for an air date was difficult. "We'd only been in business about a month when we taped. It was hard keeping it a secret; here we are a new company, in the middle of hunting season, and we can't say a thing."
Muddy Water Origins
Maloney and Kirkpatrick didn't even know each other prior to 2007. "I was a wildlife photographer for 30 years," Kirkpatrick explains.  "I published 14 coffee table books, taught workshops, took pictures of land and property.  As a photographer, I've always been an entrepreneur. One day, Steve called me up out of the blue and told me his idea, and that's where it started."
"It even says that on the business card," says Maloney.
It was a long road – four years and over one thousand photographs – to get the effect they wanted.  "We have film with camo images, we can put camo on just about anything. We want to license the camo images and sell product – a little bit of both."
I asked them about a photo on their Facebook page of the Duck Dynasty guys. "We knew them before they had their show. They have a contract to wear someone else's stuff on the show, but the Duck Dynasty craze definitely benefits us."
Muddy Water in the Shark Tank
The Muddy Water guys  were in the Tank for about an hour. "We were, and are big fans," says Maloney, "we both still watch; it's fun to see what happened with the people we met at the hotel in LA."
"I like it more," Kirkpatrick chimes in. "There was a lot of clowning around in the Shark Tank. We were joking around a lot with all the Sharks, but they edited that out. All in all, I'd say it was a pretty fair representation. We saw a 600% increase in web traffic the night of the show; some of that interest has turned into sales, but we aren't in season. We got a lot of calls from retailers and licensing inquiries from some of the biggest names in the business. The thing about it is, they called us."
In keeping with their duck hunting roots, they hosted a viewing party and served duck  quesadillas. "They were good," Kirkpatrick exclaims.
"I like a good duck gumbo," Maloney adds.
Muddy Water Camo Update on Moving Forward
"Someone mentioned a government contract in a written piece somewhere. We haven't done that, but we're open to it. We have a few other things we might want to work on, but for now, we're sticking to camo gear," says Kirkpatrick. "
The two men were joking around during the whole interview. Maloney told me he's better with a gun and Kirkpatrick is  better with a camera. I wanted the truth about Maloney going hunting on his wedding day.
"Well," says Kirkpatrick, "Steve's daughter's first word was 'duck.' As for going hunting on his wedding day, he didn't do that. He got married on his hunting day!"
Both men are having fun with their new venture and they are enjoying their "15 minutes." They offered up some familiar advice for entrepreneurs.
"Photography is a tough business," says Kirkpatrick, "if I didn't love what I do, I'd be doing something different. You know the difference between a wildlife photographer and a pizza? A pizza can feed a family of four!"
Maloney echoes that sentiment. "Find something you have passion for and hopefully you won't ever have to go to work. Decide you want to be and be the best in the world at what you love."
I had one more question for the Muddy Water Camo update. You can find the answer on The Hot Dog Truck.