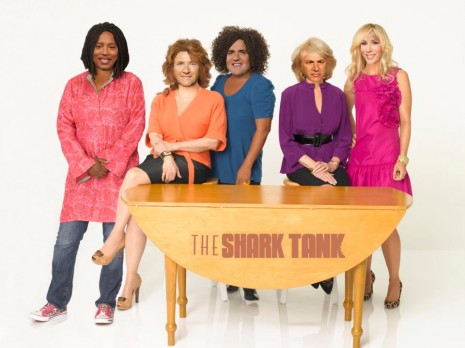 Friday, March 8 Shark Tank episode 417 is the last new Shark Tank we'll see until March 29. Between now and then, we'll see re-runs. The Friday, March 8 show Sharks are Mark Cuban, Daymond John, Kevin "Mr. Wonderful" O'Leary, Lori Greiner, and Robert Herjavec.
Friday, March 8 Entrepreneurs
4 new businesses enter the Shark Tank on Friday, March 8: a damage proof cell phone case maker, a traveling disco van, at bean bag bed company, and a fitness program about "Cowboy Abs." The featured update segment is The Painted Pretzel, which Mark Cuban invested in back in season 3.
Cell Helmet is a Pittsburgh based, cell phone case manufacturer that produces a cell phone case that offers a complete damage guarantee. If your phone breaks while in their case, simply send it to a repair facility and you'll have it back in 72 hours.
Baby Loves Disco is a traveling disco van that drives around the USA throwing family themed disco parties featuring disco hits from the 1970's and 80's. Barney is BANNED from their parties!
CordaRoys manufactures premium bean bag chairs that convert to a bed. These bean bag beds aren't your parents' bean bag chairs; they're heavy-duty, double stitched and filled with high density foam for comfortable seating and sleeping.
Lose 12 Inches is the Cowboy Abs fitness program designed by former rodeo rider turned fitness trainer Ryan Cowboy Ehmann. He promises rock hard abs in a few months. "WOO HOO! That's what I'm talking about!"
The Painted Pretzel is tonight's update segment. Shark Tank Blog readers can get a bit more inside info in my interview with Raven Thomas.
ABC has been promoting Ryan Cowboy Ehmann for the Friday, March 8 episode this week. He is an outrageously big personality, which makes good promo fodder. He is sure to be entertaining, but I believe the big score this week is Cell Helmet, the cell phone case with a damage guarantee. I spoke with CEO Mike Kane and the company is doing very well. I think they get a sweet deal.
Tune in to Shark Tank tonight, Friday March 8 at 9PM Eastern time on ABC.