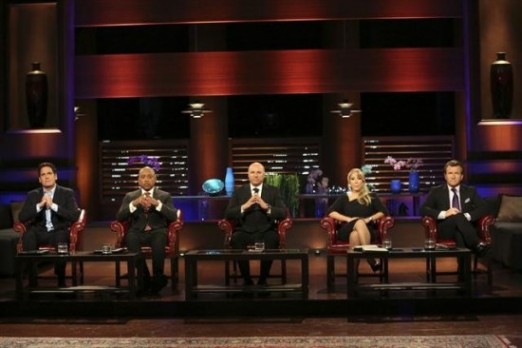 Thursday, March 14 brings another "encore presentation" of Shark Tank to ABC's troubled Thursday night prime time slot. Wife Swap begins a 7 week run in the 8 PM slot next week, but on Thursday, March 14 Shark Tank fans get another look at The Bear and the Rat Cool Treats for Dogs, The Shemie, Scrub Daddy, and Solowheel, plus an update on season three's Lollacup.
Thursday, March 14 Featured Businesses
The Bear and The Rat Cool Treats for Dogs will long be remembered as the pitch where Robert dropped one of entrepreneurs Matt and Meg Meyer's dogs! The pup wasn't hurt, but Robert provided Shark Tank fans with a little dark slapstick humor, at the expense of The Bear (or was it The Rat). Since airing, the froyo for dogs has expanded their Whole Foods distribution.
The Shemie entrepreneur and fashion designer Shelton Wilder made a big impact in the Shark Tank, not so much for her modern slips, but for her heartfelt confession about her bout with alcoholism. Since the original air date, Shelton raised over $30K on Kickstarter to get her business off the ground. Product should be hitting store shelves any day now!
Aaron Krause, creator of  Scrub Daddy, basically performed a live infomercial while demonstrating his miracle scrubbing sponge. Since he first aired, Scrub Daddy sold MILLIONS of units. I got to sample the Scrub Daddy and it is a real work horse in our kitchen sink.
Solowheel has to be one of the coolest products on Shark Tank, ever. The powered unicycle promises to change personal urban transportation forever. Entrepreneurs  Daniel Wood & David Martschinske didn't have their product available for sale last fall. It's available now!
Lollacup makes an appearance in the Thursday, March 14 update segment – complete with a cheesy plug for T-Mobile! Mark and Hanna Lim are one of the big Shark Tank successes from season three after Mark Cuban and Robert Herjavec funded their sippy cup business.
The best thing about having a Shark Tank Episode airing on a Thursday night is it's just 24 hours until Shark Tank is on again! The next new episode will air on March 29, 2013.