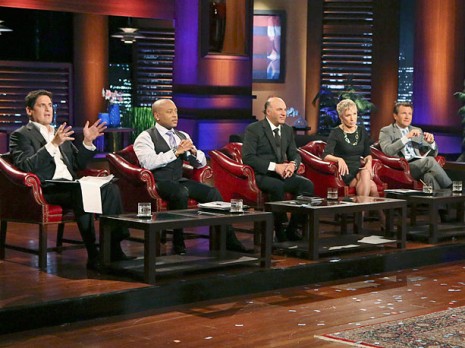 It will be a few weeks before we see a new Shark Tank, but Friday, March 15 has a re-run of episode 403. This was the first episode in a celebrity centric season four that featured celebrities joining Sharks in the Shark Tank.  Friday March 15 is a few weeks less than six months after this episode first aired and there have been a lot of developments with some of the businesses featured.
Friday, March 15 Episode 403 Entrepreneurs
Liz Lovely Cookies entrepreneur Liz Holtz was reduced to tears in episode 403. She wasn't crying because she didn't get a deal, she was crying because the Sharks said they didn't like her cookies. Liz isn't crying anymore; her cookies are selling in over 1400 Safeway Supermarkets nationwide and she doesn't have a Shark taking a bite out of her profits.
Rockbands entrepreneur Lee Dahlberg brought Robin Leach into the Shark Tank with him. His champagne nights and caviar dreams for his unique leather wristbands were realized, but has Lee closed the deal?
The "Mother of the Modern Cloth Diaper," Tereson Dupuy, pitched her 12-year-old, global, cloth diaper business called FuzziBunz to the Sharks. She revealed that many people, including her Chinese distributor, are knocking off her product. She needs to start enforcing her patents, and since this episode aired, she's begun to do just that! Watch out knock off artists, FuzziBunz is coming for you!
PostureNow makes the grandest entrance into the Shark Tank on Friday, March 15. Entrepreneurs Mike Lane and Matt Franklin got a little help with their pitch from Jonathan Roberts and Anna Trebunskaya from Dancing With the Stars. Mike negotiated hard with the Sharks and, when he got a deal, joyously quit his job on national TV. Since then, the PostureNow Reviews are in: Posture Now is a huge success. Matt and Mike gave an update on PostureNow to Shark Tank Blog and you wouldn't believe how many they sold after the show fist aired!
Stephan Aarstol from Tower Paddle Boards gives an update on his business in this episode. Mark Cuban calls Tower Paddle Boards one of his best Shark Tank investments to date.