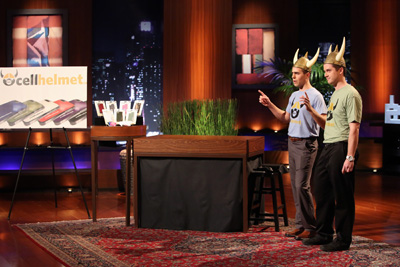 I spoke with business owner Mike Kane before Cell Helmet appeared on Shark Tank and I spoke with him again to get a Cell Helmet update. I thought Mike sounded excited about his business the first time I talked with him, this time, he was ecstatic!!
Cell Helmet Update Shark Tank Doesn't Crash Website
Cell  Helmet uses Shopify for their website, and they didn't crash on show night. Shopify has a very good record with Shark Tank entrepreneur sites – not a single one has gone down on show night. Cell Helmet was no exception.
"We're doing one hundred times the volume we were doing last week. Yesterday we had something like 1,300 sales. It's been unbelievable. We didn't get a deal, but everyone thought we did. We had about 300 people at a viewing party and everyone thought we were getting a deal just because we were throwing this party. We surprised a lot of people."
Mike thought their edit was comical. "I really thought it was more funny than anything else. I'm not unhappy about the edit, it sets us up for a nice Cinderella story for a follow-up segment. Besides, what business owner wouldn't want 7 million pairs of eyes checking them out; you'd be a fool not to like that!"
Their appearance led to sales, too. "We did 1300 sales yesterday! We're doing WAY better than we ever have."
Cell Helmet gets new Sales Channels
After appearing on Shark Tank, Cell Helmet announced a partnership with David Eldridge and Justin Goehring, who happen to own a bunch of Pittsburgh area Verizon stores. "We were talking with them before we taped, so it was interesting keeping things a secret."
The secret's out now. Cell Helmet got a lot of interest as a result of appearing on Shark Tank. "We had over 200 inquiries from retailers wanting Cell Helmet in their stores. It's mostly small chains and regional outfits – no Wal Marts or Best Buys – but a lot of interest!"
Shark Tank Blog will continue to follow Cell Helmet and provide updates whenever we can!