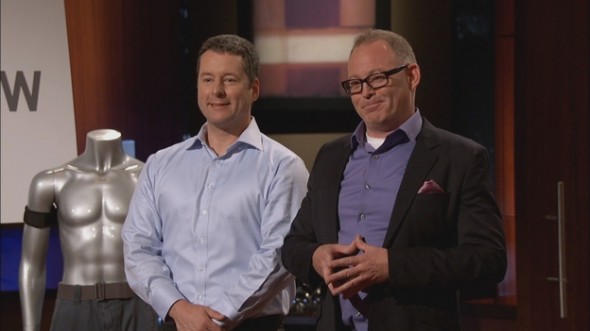 Posture Now is a posture brace or posture correction device pitched by entrepreneurs Mike Lane and Matt Franklin in episode 403. Jonathan Roberts and Anna Trebunskaya from Dancing With the Stars join Mike and Matt as they demonstrate Posture Now to the Sharks. Apparently, Mike and Matt sold many units to dancers all over the country. Unlike other posture correction devices, it is not a brace, it  provides a "gentle reminder to throw your shoulders back and stand or sit up straight." It's only meant to be worn for a half hour or so a day to train good posture through muscle memory. It is priced at $40 and comes with a money back guarantee.

Posture Now Shark Tank Recap
Mike and Matt enter the Shark Tank seeking $100k for a 15% share of the business. Anna Trebunskaya and Jonathan Roberts dance for the Sharks to demonstrate the importance of good posture; Roberts is actually wearing a Posture Now! The product is patent pending and they've sold $330K worth over the years. Mike and Matt have many Chiropractor endorsements and they are marketing to HR departments to correct postures for folks hunched over computers all day.
Mr. Wonderful offers $100K for 50% plus a 10% royalty. Mike and Matt reject that offer. Daymond thinks Mike and Matt don't belong in the Shark Tank and he goes out after accusing them of talking too much. Barbara likes Mike and Matt, but she goes out anyway. Robert offers $100K for 40% but pulls his offer because he thinks Mike and Matt are "working the room."  Mark offers $100K for 30% plus a $5 per unit royalty until he gets his money back. They accept and Mike excitedly quits his job on National TV.
PostureNow Shark Tank Update
Mike quit his job as soon as they returned from shooting Shark Tank, Matt quit his job toward the end of 2012. In the week following the original air date, they sold over $100K worth of product! In March, 2013, Mike and Matt are touring factories and developing new products. Since they aired, they have sold more products than they did for their first three years in business. Mark Cuban invested in another Shark Tank Success!
Over the years, the company had consistent sales. As of August, 2021, they are still in business with $6 million in annual revenue. Something happened with their supply chain issues because as of August, 2022, they say they are "sold out" due to "high demand coupled with global supply chain and supplier issues."
I will update this page as more information becomes available.
Posts about Posture Now on Shark Tank Blog
PostureNow by Matt Franklin & Mike Lane
Matt Franklin PostureNow Update
Company Information