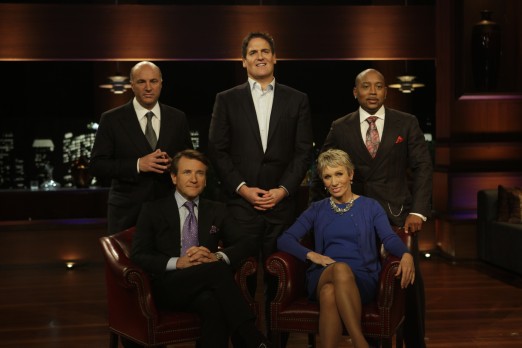 Episode 403 brings three celebrities into the Shark Tank. Robin Leach helps Lee Dahlberg pitch his fashion line of leather wristbands, called RockBands, to the Sharks. Jonathan Roberts and Anna Trebunskaya from Dancing With the Stars swirl into the Shark Tank to demonstrate entrepreneurs Matt Franklin and Mike Lane's posture correction device called Posture Now. Husband and wife entrepreneurs Liz and Dan Holtz pitch their Liz Lovely cookies and Terson Dupuy pitches her globally branded, cloth diapers called FuzziBunz.
Success stories are shown every week, and Shark Tank Episode 403 showcases Stephan Aarstol and Tower Paddle Boards, which Mark Cuban invested in during episode 309 in season three. Cuban says Tower Paddle Boards is one of the most successful investments he's made on Shark Tank.
ABC bought 24  Shark Tank Episodes for Season 4.  If you would like to appear on the show, check out our Auditions and Casting information.
Episode 403 – The Shark Investors and Entrepreneurs
The Shark Tank Episode 403 entrepreneurs will make their best pitch to the panel of five Shark investors who will use their own money if they choose to invest. The Shark Investors negotiate on the spot without any previous information, which differs from typical negotiations between venture capital investors and entrepreneurial start-ups.
Companies pitching the Shark Investors must go through a rigorous due diligence process before an on-air deal is completed. Shark Tank Blog follow ups help you keep track of the companies that end up successful and the ones that don't complete their deal.
Thank you for reading Shark Tank Blog, the number one site for Entrepreneurs, Investors and Fans. Our content is updated multiple times day, giving you the latest information on Episode 403, Season 4, and all other seasons and episodes.