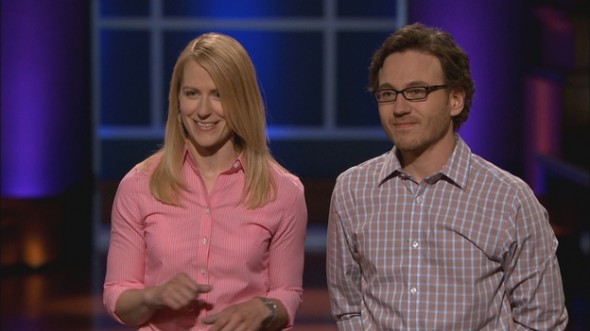 Liz Lovely Cookies are a Vermont-made, gluten-free line of cookies. Husband and wife entrepreneurs Dan and Liz Holtz, from Waitsfield, Vermont, pitch the Sharks in episode 403. Liz Lovely cookies are 100% natural. They contain no artificial ingredients, no preservatives, no "colors" or "flavors", no genetically modified organisms, and no trans fats or hydrogenated oils. They also are a certified vegan bakery and offer a wide variety of gluten-free cookies too. The cookies are one of the biggest gluten-free cookie brands on the east coast and are currently available in Shaws, Whole Foods, Rainbow Blossom, and many other supermarket chains and smaller retailers.
Liz Lovely Cookies Shark Tank Recap
Liz and Dan came into the Shark Tank seeking $200k for a 10% share in Liz Lovely Cookies. Like all good food entrepreneurs, they had samples for the Sharks:  cowgirl and a cowboy cookies (the cowboy cookies have nuts). They did nearly $1 million in sales in 2011.
Mr. Wonderful said he didn't like the taste of the cookies (which made Liz cry) and he goes out. Barbara, Daymond, and Robert quickly follow his lead; they're all out. Mark Cuban is into gluten-free foods, so he's interested in Liz Lovely Cookies; he just doesn't like the valuation. He starts his famous 24 second clock – ON HIMSELF! Mark asks Liz and Dan to give him a counter offer and he promises to give them an answer in 24 seconds. The Holtz's counter with 20%. Mark thinks for a moment and goes out. As Liz and Dan are leaving the Shark Tank, Mark tells the other Sharks he wanted 33%.
Liz Lovely Cookies Update
In the months following Shark Tank, Liz and Dan met with different angel investors. They elected not to partner with anyone. Instead they borrowed some money and launched an unsuccessful Kickstarter campaign. Their business continues to grow – they did good business around the holidays. In February, 2013, Liz Lovely Cookies inked a deal for distribution in 1,400+ Safeway markets nationwide! Even though they didn't get a deal, they are a Shark Tank success!
A more detailed update on Liz Lovely is on the Beyond the Tank episode 106 page.
By mid 2014, there were problems afoot. Liz and Dan divorced and the company was struggling to keep up with the demands of supplying Wegman's, Whole Foods and others. Dan told the Burlington Free Press the divorce "was not in any way amicable." Dan got the house and Liz got the business. Liz contracted with a bakery to make the cookies and, in June 2017, she said they were not meeting her standards – a claim  the bakery disputes. She sent a letter to her vendors saying she would suspend business until August 2017. By that August, the business was shut down and the contract bakery was left holding the bag.
In April, 2018, Liz filed for Chapter 7 Bankruptcy with $636,024 in business related debts.
As of July, 2021, Dan is running a business in Essex Junction, Vermont and Liz is living in South Bend, IN. Both are re-married and Liz had another baby.
Posts about Liz Lovely Cookies on Shark Tank Blog
Liz Lovely Cookies Information