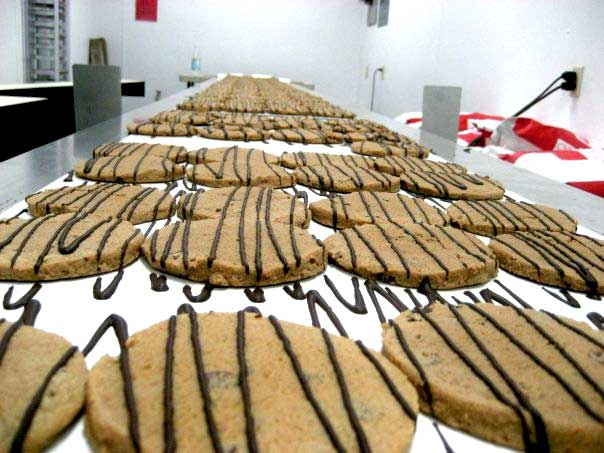 The third show of season four brings Liz Lovely Gluten Free Cookies business into the Shark Tank.  Liz Lovely, the 100% vegan and gluten free cookies business from Waitsfield, Vermont was founded by husband and wife entrepreneurs Liz and Dan Holtz. They were high school sweethearts in their hometown of  Indiana, Pennsylvania who shared a love of all things sweet, and, apparently, each other!
Liz, who the company is named after, "grew up thinking a day wasn't a day unless you baked something." Liz Lovely cookies got their start in their Vermont location back in 2003 when they received a commitment from United Natural Foods, the largest natural foods distributor in the country. In one summer, they essentially built their bakery with the help of family and friends and they became a strong gluten free cookie presence on the east coast. Liz Lovely cookies are 100% natural, they contain no artificial ingredients of any kind, no preservatives, no "colors" or "flavors", no genetically modified organisms, and no trans fats or hydrogenated oils. They also are a certifed vegan bakery and offer a wide variety of gluten free cookies too.

Liz Lovely Gluten Free Cookies
REAL natural foods are becoming a big business. There is a whole new generation of consumers who are rejecting the mass produced, big agribusiness foods available to the mass market. These consumers tend to be young, educated, and willing to spend a little extra to get a more wholesome food product. Just because something is good for you, doesn't mean it can't taste good, and Liz Lovely proves it. I have actually tried these cookies while traveling in Vermont ( I had the "regular" Creature Comfort Cookies) and they were superb. I can honestly say I have never tried  gluten free cookies, but I know yummy when I taste it! I wonder if they will make a commemorative Shark Tank cookie?
The real question is will the Shark Tank sharks want to bite into yet another sweet business. Barbara Corcoran has done well with food businesses, but does she want another one in her portfolio? Surely the Shark Tank sharks know about the rising popularity of all natural, wholesome foods: it's a multi-billion dollar business; but the consumer food business, particularly the snack food business, can make the sharks look like minnows. It is tough to get shelf space in retail outlets  in the snack aisle and competition is fierce. "Gluten free" is becoming a snack food buzzword and gluten free cookies can be found in many markets now; the question is are they as good as Liz Lovely's.
Liz Lovely cookies are currently available in Shaws, Whole Foods, Rainbow Blossom, and a host of other supermarket chains and smaller retailers. They also have a strong mail order business. My guess is Liz  and Dan want broader distribution and want the Shark Tank to help them go national. Before the two make a deal, they should realize that if they come off well on TV, they won't need the Sharks; business will come to them and they will find it a lot easier to get appointments with national food brokers and buyers just by virtue of being on the show.
Their website is very well put together. It has a "home made feel" to it, but it is an honest-to God awesome eCommerce site with great graphics and loads of information. The couple is living their version of the American Dream by providing jobs and quality, wholesome products on their own terms in a "socially responsible way."  They are a pair of principled entrepreneurs who "don't cut corners, and we don't prioritize profits over people or the planet." Liz Lovely has gotten their fair share of media attention already with appearances on Martha Stewart radio, the Rachel Rae show, and even Chronicle (I was on that show too).
Whether Liz Lovely gluten free cookies gets funded on Shark Tank or not, I am "IN!"