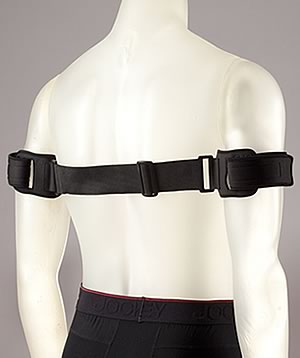 PostureNOW jumps in the Shark Tank Friday night with a little help from Jonathan Roberts and Anna Trebunskaya from Dancing With the Stars. PostureNOW is a posture correction device invented by Matt Franklin and Mike Lane. The business partners hope the Sharks will invest in their company and straighten out the company's sales.
Posture NOW was created by the two Portland, OR area men who created PostureNow because they realized they were ruining their postures hunching over computers all day. They didn't like the posture correction devices available on the market, so they consulted with physical therapists and chiropractors and developed their own solution. That solution became PostureNOW.
PostureNow Provides Reminder
What PostureNOW does is provide a "gentle reminder to throw your shoulders back and stand or sit up straight." Other posture correction devices act more like a brace and do all the work for you. The PostureNOW website claims you can wear their posture correction device under your clothes. After wearing the posture correction device for a while, "good posture becomes a habit and muscle memory results in a natural, upright posture." Dancers have been big PostureNOW customers as maintaining good posture is tantamount to being a graceful dancer. This is probably why Franklin and Lane have Jonathan Roberts and Anna Trebunskaya endorsing their product in the Shark Tank.
I am not sure the sharks will bite. The PostureNOW website doesn't look like a website that is "shark worthy;" it has a "long sales letter" feel to it. It's also going to be hard for the Sharks to justify investing in a product that makes health claims of any kind, explicit or implied. The liability issues alone could scare the sharks away. I think it is a good product, good posture IS important and they have plenty of testimonials. The $40 price tag isn't a sum that would frighten curious buyers away and they offer a 100% money back guarantee. The PostureNOW also has made great inroads in the dancing community, but that might be too small of a niche for the Shark Tank investors.
I think the Posture NOW will see a lot of sales as a result of the appearance on Shark Tank, but I think the Sharks will be "out."