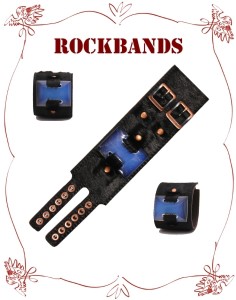 RockBands entrepreneur Lee Dahlberg and Robin Leach (Lifesyles of the Rich and Famous) pitch RockBands, fashion wrist accessory with a gritty, rock and roll image.
Dahlberg, a former model turned designer, started the business last year when he sold his house to finance the business. RockBands are essentially a leather bracelet with exotic stones. Dahlberg says an old John Wayne movie inspired his creations; Wayne was wearing a crummy leather wristband with a piece of turquoise hastily tied to it. Dahlberg wanted to make a better one, so that's what he set out to do.  Plenty of celebrities are sporting RockBands, including Bono, Johnny Depp, Brad Pitt, Angelina Jolie, Jack Nicholson and a host of other music and film celebrities. Apparently, Robin Leach is on board too.
RockBands 40 Different Stones
The RockBands wristbands are made of all sorts of material including python, crocodile, tree snake and calf skins. There are over 40 different types of stones used in various RockBands and Dahlberg appears to be an adherent to the new-age concept of stones providing varying powers for creating a sense of well being. Mr Dahlberg will probably wear a moss agate stone while in the Shark Tank since that's the "prosperity stone!"
New age benefits aside, the Sharks will be interested in whether or not RockBands will make them money. Certainly the celebrity association couldn't hurt, it's a great way to brand a product. Daymond John may have some interest in RockBands as it fits into his fashion portfolio. Dahlberg is branching out to include belts, wallets, purses and clothing items into the RockBand line. He was recently showing off his line at Neiman Marcus in Merrick Park in Coral Gables, FLA- a hint at what may happen for RockBands in the Shark Tank. Whether the sharks bite or not, Dahlberg has many fashion connections from his years in modeling that will likely help him propel his business forward.
RockBands website
What Happened in the Shark Tank
Entrepreneur: Lee Dahlberg with a little help from  Robin Leach of "Lifestyles of the Rich and Famous" fame
Seeking: $100,000 for 20% stake
Result: Mark Cuban and Daymond John teamed up to invest $100,000 for a 40% share