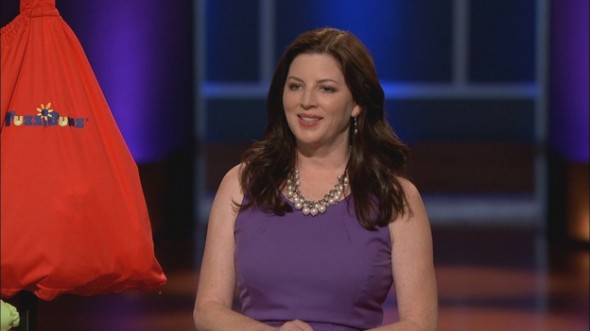 FuzziBunz founder Tereson Dupuy pitches her globally branded, cloth diaper business to the Sharks in episode 403. Tereson invented FuzziBunz when she was seeking a cloth material that would help alleviate her son's diaper rash. 12 years and millions of dollars in sales later, Tereson built FuzziBunz into an international brand, selling in boutiques, chain stores, and online outlets. FuzziBunz have a fleece lining with a microfiber pad in a pocket to keep things dry. Tereson, the "Mother of the Modern Cloth Diaper," claims millions of babies all over the world have used the product. FuzziBunz appeals to parents who want to save money on disposable diapers and those who wish to live a more "green" lifestyle by not loading landfills with poopy diapers.
FuzziBunz Shark Tank Recap
Tereson entered the Shark Tank seeking $500k for 15% of the business.  Tereson has sold over $24 million worth of product; $3.9 million in the previous year. She only made $20K on that $3.9 million because she had a manufacturing issue and one of her former distributors knocked off FuzziBunz. There are many other knock-offs infringing on her patents, too.
Mr. Wonderful says he's Tereson's perfect partner because he loves to sue people! Mark says he doesn't want to be involved in cleaning up all the poop in this deal; he's out. Barbara questions Tereson's judgement and she goes out. Daymond and Robert quickly follow Barbara. Kevin, even though he loves suing people, goes out too and Tereson is left holding the dirty diaper bag.
FuzziBunz Shark Tank Update
Tereson confided that people knocked off FuzziBinz since the first year she was in business. She doesn't want to put people out of business, but she's hired a new patent attorney and plans on going after the knock-off artists. Her plan is to send letters to businesses infringing on her patents asking them to enter a license agreement or face litigation. Tereson closed the business in September, 2018. In July, 2021, she was touring the USA in a camper van. In May, 2023,  she's back in New Orleans working as a musician and artist.
Posts about FuzziBunz on Shark Tank Blog
Company Information