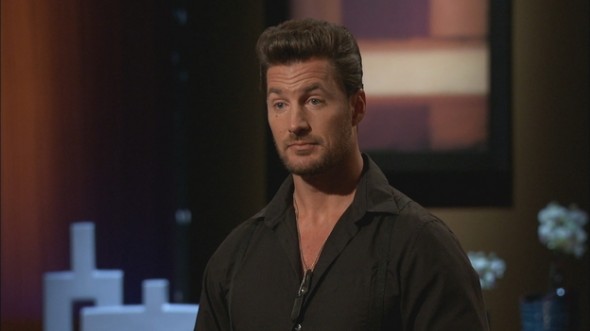 Rock Bands entrepreneur and former fashion model Lee Dahlberg got a little help from a friend – Robin Leach – to pitch his fashion leather wristbands to the Sharks in episode 403. Dahlberg sold his house to finance the business, which are a leather bracelet adorned with exotic stones. The bracelets are made from a variety of animal hides including python, crocodile, tree snake, and calf skins. There are over 40 different types of stones used in various Rock Bands; Dahlberg is an adherent to the new-age concept of stones providing varying powers for creating a sense of well-being.
Rock Bands Shark Tank Recap
Dahlberg and Leach came into the Shark Tank seeking $100k for  20% of the business. He tells the Sharks many celebrities wear them, including Bono, Johnny Depp, Brad Pitt, Angelina Jolie, and Jack Nicholson. He's done around $300K in sales over the past five years.
Mr. Wonderful wants to license Rock Bands and offers Lee  $100k for 100% of the company with a 7% lifetime royalty. Barbara says she'd like to partner with Kevin. Daymond and Mark offer $100K for 40%. After some back and forth negotiations, Lee accepts Mark and Daymond's offer.
Rock Bands Shark Tank Update
The deal with the Sharks never closed. Besides a website redesign, the business hasn't made many changes since appearing. Their Facebook page is sparse on updates since the episode originally aired too. Dahlberg made his debut as a comedian at the Hard Rock Casino back in November 2012. Dahlberg also continues to work as a model. It doesn't appear that he has embraced the Shark Tank Effect to its fullest extent.
As of August, 2022, Dahlberg has shuttered the company website. He still sells them on his personal website. Dahlberg also sells custom and refurbished furniture called Son of a Bench. He also continues to model and has a net worth of $17 million.
Posts about Rock Bands on Shark Tank Blog
RockBands Lee Dahlberg & Robin Leach
Company Information