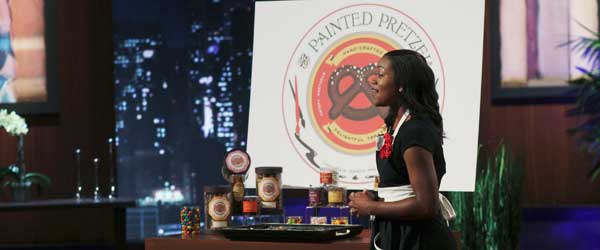 "Raven Thomas and the Painted Pretzel," sounds like the title of a fairy tale story you might read to a child. After her Painted Pretzel business was funded by Mark Cuban on Shark Tank, you could make a strong argument for the "happily ever after" tale of this Arizona mom and her fledgling business.
Mark Cuban Funds Raven Thomas
When Raven Thomas' segment first aired on Shark Tank,  I predicted her business would be funded. If you have ever had a chocolate covered pretzel, you'd know why I made that Shark Tank prediction! I caught up with Raven last week over the phone and chatted with her about life after being on the Shark Tank and the current status of Painted Pretzels.
Web traffic crashed Raven's servers when the show first aired. "Our web host kept saying 'don't worry,' but we had 75,000 hits to the site and it went down for 2 hours. Traffic to our website has remained high since."
Like many other Shark Tank entrepreneurs, Raven has befriended Shelly "Show No Towels" Ehler. Raven has joined the supportive Shark Tank community of entrepreneurs. "Shelly is a friend to entrepreneurs," she said. The two have met up in person and talked on the phone many times.
Raven's Painted Pretzels are making money. "Sales have quadrupled since the show first aired. We made more sales in the few months after the show aired than we did all of last year! I keep re-investing everything back into the business, though." She uses a commercial kitchen to fulfill her orders now, and she outsources to a candy factory for large orders, "but they use my recipes."Packaging and shipping are still handled by Raven personally.
Painted Pretzels are available to purchase online, but they are in retail stores as well. "We have them in Neiman-Marcus. Their business is seasonal to a point, but the bigger stores re-order throughout the year. We are in every Neiman-Marcus in the Fall, the Fall and the holidays are very big for us. Mother's Day and Father's Day were good too." When asked if she had any other goodies in the pipeline for the Fall, Raven said she plans to stick to her pretzel products. "I have always been about the pretzels – just the pretzels."
Mark Cuban, who funded the burgeoning confectionery empire, has been a big help to Raven. "He brings both curiosity and credibility to the business; he'd change the dynamics of any company. Mark's forgotten more about business than I'll ever know. He's very accessible, we are in touch via email at least once a week." Raven didn't give up control of her business to Cuban; she explained his role as more of an adviser. "I bounce ideas of Mark and he keeps me from making bad decisions." As far as Cuban's personality goes, "what you see is what you get with Mark," she said.
Raven felt the broadcast treated her fairly. "I was only taping for twenty minutes, so they didn't cut much. I was happy with the editing – the pitch was to the point." The favorite part of her segment was when she offered the sharks samples. "That was the best part of the pitch, when they tasted the pretzels. They all cleaned their plates!"
One of the other Shark Tank products that caught Raven's eye was the Lollacup. "I have two kids, so I really saw the need to have a spill proof cup." We spent several minutes commiserating about crappy sippy cups from our parenting pasts and both agreed Lollacup was a winner. Raven is also a big fan of Steve the Cat Drawing Guy and Show No Shelly. She claims if she were a shark, she would have funded Invis-A -Rack. "I just liked the idea," she said.
All in all, Raven rates the Shark Tank experience as a resounding success. "I am super grateful for the opportunity, it was good luck. Lots of good businesses don't make it. I really needed the funding. I would have kept going without it, but I am not sure if would have made it."
I asked Raven one more very important question. Check out The Hot Dog Truck for the answer.