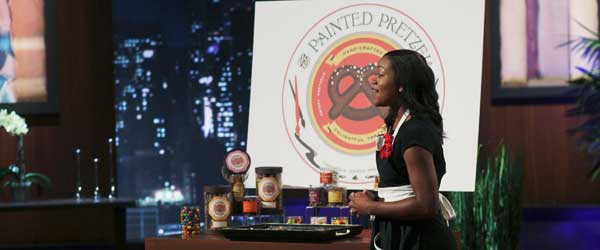 The Painted Pretzel founder Raven Thomas was making her delicious, chocolate covered pretzels for three years before appearing on Shark Tank episode 302 in February of 2012. Raven, a stay at home mom, made all the Painted Pretzels in her own kitchen and had some success selling in mom and pop type stores. She racked up over $60K in sales in the year prior to her appearance and was becoming overwhelmed with orders due to the popularity of her products. Raven had a big order from Neiman Marcus to stock The Painted Pretzel, but she simply didn't have the resources to fill the order. She had previously walked away from a $2 Million order from SAM's Wholesale Club for the same reason. She needed to take her business to the next level which meant, among other things,  leasing commercial kitchen space.
The Painted Pretzel Seeks Shark Tank Funding
Raven Thomas pitched the Sharks on her business and asked for a $100K investment for a 25% share of the business.  Kevin thinks he can duplicate the business and doesn't see anything proprietary. Lori didn't like Raven's emotional appeal where she claimed she wanted to show her kids that being a success means following your dreams. Mark Cuban liked Raven's "heart and soul," he also liked the Painted Pretzels! He offers Raven the $100K for 25% of the business and tells her she can sell them in his movie theaters and sports arenas.
The Painted Pretzel Shark Tank Update
Since her appearance, Raven Thomas has been working extremely hard to make The Painted Pretzel a success. She leases commercial kitchen space and has a candy factory fulfill large orders. The  Pretzels are in Neiman Marcus and SAM's Club; they also sell quite well on Amazon. Raven credits Mark Cuban for helping make the business a success. She would have moved on without an investment from Cuban, but is unsure if she would have made it this far. Shark Tank fans get a first hand look at Raven's success in an update segment in episode 417.
In July, 2023, the company is still in business. They no longer sell on Amazon. With many corporate clients and distribution in Cuban's Landmark theaters, the company does over $1 million in annual sales.
Posts About The Painted Pretzel on Shark Tank Blog
Raven Thomas & The Painted Pretzel
The Painted Pretzel: Interview with Shark Tank Entrepreneur Raven Thomas
Company Information