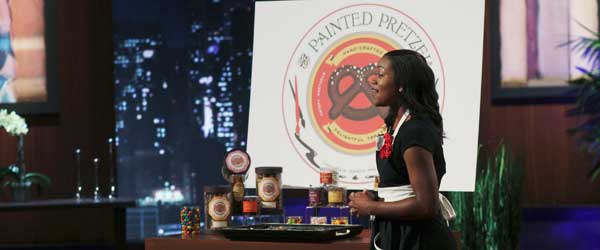 Raven Thomas founder, The Painted Pretzel is my pick to send Shark Tank fans online immediately to order her specialty Gourmet Pretzels. The last time an event happened like what I'm anticipating tonight, was caused by Barbara Corcoran's investment in Kim Nelson's Daisy Cakes. She had over 70,000 visits in the first three minutes of the show causing her website to crash. Hopefully, she will get the traffic without the crash and be able to handle all the orders!
It's clear, Raven Thomas and The Painted Pretzel are hot. The website is done well and she's got her product in places like Neiman Marcus, Sac's Fifth Avenue and many other fine stores in malls across America. She landed as a top pick of the day on "The Rachel Ray Show."
Raven Thomas has the inspirational story to go along with the deal. She's suffered from bad economic times after her husband was cut from an Arena Football team. Before that happened, she started her Gourmet Pretzel business working out of her house as a hobby.
Now, she's looking to take her business to the next level and she wants The Sharks to help her make her dream come true.
The Painted Pretzels come in "Nut Lover's Painted Poppers", "Pretzel Bark Deluxe" (Would be my choice!), "The Party Starter","Petizels", "Pretzelicious Pretzel Knots", "Pecans & Chocolate Chip Rods", "Signature Collection", "Custom Pretzel Rods" and "The Glitz".
Raven Thomas and The Painted Pretzel will have a bidding war for this delicious treat. Who will it be that goes for this one? Lori Greiner, Daymond John or Mark Cuban… I don't see Kevin O'Leary or Robert Herjavec getting into the Gourmet Pretzel business.
I'm craving Gourmet Pretzels right now and I know I would eat the whole container while watching Shark Tank tonight!  Check out my predictions for this and others who are appearing on this episode of Shark Tank.