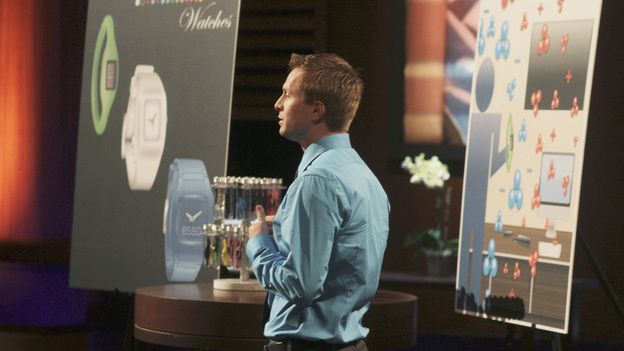 Esso Watches entrepreneur Ryan Naylor came to the Shark Tank in episode 302 touting the benefits of his negative ion technology watches. The concept behind negative ion technology is unproven science at best and dubious health claim at worst. Ryan has Lori test a watch and she claims she feels a difference in her balance while wearing it. Negative ion technology is not new, there are many who swear by similar bracelets, but most believe that to be the "placebo effect." Naylor doesn't produce the watches himself, they are manufactured overseas; his angle is to boost sales with an investment from one of the Sharks.
In the Shark Tank
Naylor came to the Shark Tank seeking a $35K investment for a 20% share in the business. Previous sales of Esso Watches were around $120,000 with a $70K profit; all that from just a $10K investment. He sells them primarily online; they are available on Amazon. Ryan wanted help from the Sharks to get more retail distribution and to order more product.
The Sharks tore Naylor apart. Lori thought the health claims made in relation to the negative ion technology were a liability issue without independent testing. Daymond and Robert don't believe a word of Ryan's claims. Mark Cuban calls the watches and negative ion technology an outright scam; Cuban has continued his crusade against these health claims, refusing to sell a similar NBA endorsed product in his arenas. Kevin offers to invest if Naylor admits the business is a scam; Naylor won't do it, so Kevin is out too.
Esso Watches Shark Tank Update
Whether you believe in negative ions or not, Esso Watches were sporty, fun, and inexpensive. Naylor capitalized on his Shark Tank exposure to make a lot of sales, both on Amazon and his own website. Since the original air date and a summer re-run, the company website has shut down. Naylor decided to close the business due to a trademark infringement lawsuit filed by Exxon Mobil which owns the Esso trademark. Mark Cuban continues his crusade against negative ion technology, but apparently he won't have Esso to kick around anymore.
Naylor founded VIVAHR in 2017. It's a hiring software business. He's also authored several books and does speaking engagements.
Posts about Esso Watches on Shark Tank Blog