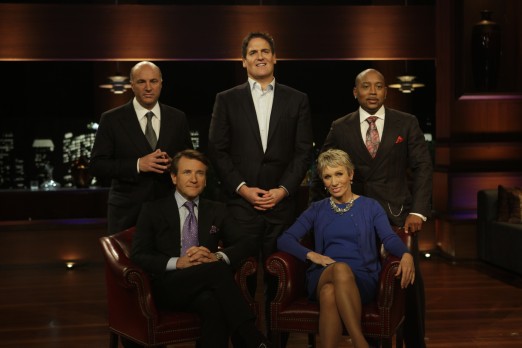 Shark Tank returns Thursday, March 7 in a special time slot at 8PM Eastern. ABC is using "encore presentations" of Shark Tank to fill the slot vacated by the cancelled "Zero Hour." "Wife Swap" will fill the Thursday slot starting on the 21st of March.
Thursday, March 7 features Episode 406
Episode 406 was a watershed episode for Shark Tank. It was the highest rated Shark Tank ever (other episodes have since surpassed that). Part of the reason for the ratings is Brandon Jacobs, an active – albeit injured – NFL player brought a sporting audience and new fans to the show as he assisted with the PRO NRG pitch as "the spokesman."  Freaker USA and Eco Nuts brought a lot of social media savvy to the table which could account for increased viewership as well.
The businesses featured in this episode were all compelling. You have the wackiness of the Freaker pitch, with Zach Crain "beeping and whooping" his way through his presentation. Then there's the PRO NRG pitch with the aforementioned Brandon Jacobs, who just so happens to be the NY Giants all-time, rushing touchdowns leader. The Eco Nuts pitch featured a confrontational edit with co-founder Mona Weiss uttering the now famous line: "you better be working 16 hours a day!" Cousins Maine Lobster cashed in on the LA Food Truck craze and scored an investment from Barbara; they were even featured in an update segment in episode 413! Kisstixx was the episode 406 update and they have a big social media following too, not to mention a popular product.
The Thursday time slot is only temporary; it's just this week and next week. Whether the Thursday, March 7 airing is another ratings bonanza for ABC or not, this was a very good episode. The entrepreneurs featured are all over social media, announcing their second shot at the prime time limelight.