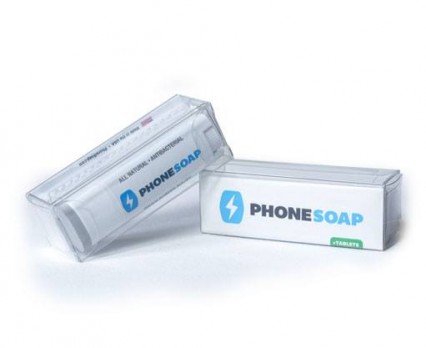 Germaphobes are going to love Phone Soap, a smart phone sanitizer inventors Wesley Laporte and Dan Barnes pitch in Shark Tank episode 620. The pair created PhoneSoap, a case with bacteria killing UV lights you slide your phone into, back in 2012 when they blew out their Kickstarter goal of $18,000 and raised over $63,000 to start their business. They also sell accessories like polish, polishing cloths, cases, and cables.
The Genesis of the idea came when Wesley and Dan discovered the average cell phone has 18 times more bacteria than a public bathroom toilet handle and that one in six phones has fecal matter on them. YUCK! Since that phone is up near your mouth, they thought they had a problem to solve and Phone Soap was the answer.
Phone Soap isn't soap at all, it's more like a mini tanning bed for your smart phone. The phone goes inside a case and gets immersed in a UV Ray "glow." UV rays have been used in industrial sanitization for years, PhoneSoap takes that concept and puts it in a table top package. You can also charge your phone while it's being cleaned! The guys had the product tested and once the test phone came out of the Phone Soap sanitizer, it was completely bacteria free!
They're selling the product all over the place, it's moving briskly on Amazon. At $59.99, it won't break the bank, either. My guess is the guys are at a critical growth stage and need an infusion of capital to take it to the next level. They could also use some help getting into retail. How cool would it be to have Phone Soap in every phone store?
My Take on Phone Soap
My iPhone is inside a LifeProof case; they're waterproof and with the amount of time I spend at pools and the beach, it's a necessary thing. The case gets incredibly cruddy and I clean it once or twice a week. Putting it inside a charger that completely sanitizes it every night is something I'd do, and I think many others would too.
Imagine all the people with kids who let their kids use the smart phone. When they realize how germ encrusted they really are, they'll snap this product up. They should look at developing a tablet sized version, those get pretty cruddy too.
I think this is a great idea and I think Wesley and Dan are going to sell a lot of Phone Soap units on show night and in the aftermath. There's no other product like it on the market and if their patent protection is solid, they're sitting on a goldmine. Phone Soap is a winner!
Do Sharks Clean Up with Phone Soap?
The product is a winner, but the Sharks look beyond that. Numbers are important. While I don't know their sales, based on the activity I see online, I can only assume they are selling a fair amount of units. If all their ducks are in a row on the business side of things, I think they'll field an offer or two.
This product looks to be a good fit for Lori: moderately priced, big market potential, high "need" factor. That said, other Sharks might make a play, too. It depends on how well received the idea is and how Wesley and Dan come off to the Sharks. If they're perceived as likeable, hard-working, and trustworthy, they'll get a deal. If they come off as too "snake-oily," they may have issues.
Regardless of what happens, I think the PhoneSoap story will resonate with viewers. They better have their website amped up Friday night because I think they'll see server crushing traffic whether they get a deal or not.