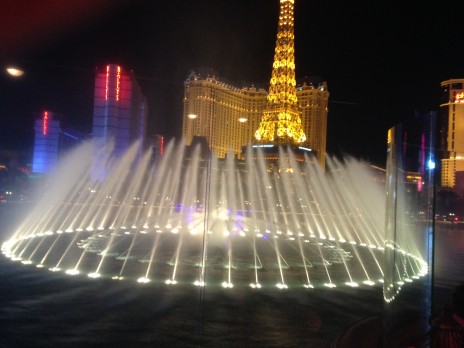 The old saying "what happens in Vegas stays in Vegas" does not apply to Affiliate Summit West 2015 (or any other Affiliate Summit for that matter). Every year, I attend Affiliate Summit in Las Vegas, Affiliate Summit 2015 was my sixth. This year, it was held at the Paris Hotel and Casino from January 18-21. I credit the conference with expanding my knowledge and opportunities in online publishing and marketing.
Affiliate Summit West 2015, like all the others, brings together publishers, advertisers, networks, and experts in the field of Affiliate Marketing for three days of intensive classroom sessions, a trade show, and a TON of networking opportunities. I've met some great business contacts and some wonderful friends at the shows over the years. The experience is priceless.
When I attended my first Affiliate Summit, I was a part-time blogger looking to expand my online business. Now, I am a full-time blogger with a burgeoning publishing "empire" earning more money than I have since getting out of the mortgage business and living the "DotCom" lifestyle most people would envy. I don't say that to brag, it was a lot of long hours, hard work, and dedication that got me here, but I couldn't have done it without Affiliate Summit.
Affiliate Summit 2015 was the BEST Ever!
Of course, I say this every year. Shawn Collins and Missy Ward, the show organizers, do an excellent job bringing people together. They also raise big bucks for the fight against breast cancer each year. In short, they're good people who are an integral force in moving the industry forward.
Affiliate Summit West 2015 had over 6000 attendees, making it the biggest show to date. Every year, more people are finding the value of this conference. About 30% of attendees are publishers and/or online merchants seeking new tools and tips to grow their affiliate sales channel. I met everyone from clothing companies, to pet product companies, tee-shirt makers, social media experts, "gurus," and much more. The collective information gleaned from this interactions is often the most valuable part of the experience and Affiliate Summit is the place to get everyone together, even if only for a few days.
Sharks at the Summit?
None of the Sharks attended Affiliate Summit West 2015, but many Shark Tank entrepreneurs are represented at the show. Bouqs sells online through Impact Radius, Grace and Lace sells through EBay Enterprise Network, PostureNow sells through Share a Sale, and many other companies use networks represented at the show. I even met a contestant from the Canadian version, Dragon's Den, who I'll be interviewing in a week or two!
Affiliate Summit Parties
One of the more fun aspects of the show is the parties! These are lavish affairs where some of the bigger networks rent out entire nightclubs and throw a big bash. Share a Sale's Party Under the Stars is always a fun time; this year it was at the Hyde Nightclub in the Bellagio Hotel. The club overlooks the famous Bellagio fountains. It was a fantastic time! In a bit of a fun, but near legendary after party, myself and a group of five cabbed it to the Hard Rock Cafe after the Share a Sale party and CRASHED a porn industry party! Not only did we get into the party, we crashed the VIP section and had front row seats for Be Real from Cypress Hill! Only in Vegas….
The next night was the Affiliate Ball which featured recording artist Sean Paul. As usual, I had to ask my kids who the entertainment was! I managed to get up front for this performance and it was electric. The crowd was into the show, there were go-go dancers everywhere and a good time was had by all!
There were other parties I attended, too. The most memorable one was at a suite in Aria where the good people from Criteo hosted a Patriots viewing party!
I'll Be Back
I will definitely be back next year. They have an Affiliate Summit in New York each August, too. I attended once, but the lure of the beach overcomes the lure of New York City in August!
If you'd like to know more about Affiliate Summit, check out their website. See you in Las Vegas next year!
Related articles across the web